Who Is Your Sexiest Man Alive?
As People magazine prepared to announce its annual Sexiest Man Alive on Wednesday, rumors swirled that it would be the classically handsome "Mad Men" star Jon Hamm.
But Hamm lost out on having bragging rights for a year. This year's SMA is none other than
Scarlett Johansson's
34-year-old husband, Ryan Reynolds.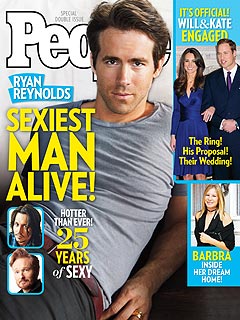 Interesting choice. Reynolds, star of "The Proposal," is undeniably sexy -- and his abs are more than a little impressive. But even though he's married to one of the hottest women in Hollywood, Reynolds manages to stay modest.
"My body naturally wants to look like Dick Van Dyke," says the 6'2" actor, who will star in "Green Lantern" next year. "When I stop training, I turn into a skin-colored whisper."
But while People's editors lust for Reynolds, "real" people prefer Vin Diesel. The actor, 43, handily won People's first-ever Sexiest Man Alive on Facebook poll, earning 56 percent of the vote in a five-way race.
Diesel only came in 11th place on People's list, preceded by Reynolds, Hamm, Kellan Lutz, Drake, Matthew Morrison, Jon Bon Jovi, Joe Manganiello, Robert Downey Jr. (that's a random one), Jesse Williams and Justin Timberlake. Jake Gyllenhaal came in 12th place.
Who do you think is sexiest?
Read More: http://www.people.com/people/package/article/0,,20...
Add a comment above