Stop using God and Religion as an excuse to justify your Hate, Ignorance and Prejudice
I am So Sick of People Using God or Jesus or thier own Religion to justify thier own hate and ignorance God says in the bible To hate Gays God says in the bible to kill Gays the bible says the Bible is true so it must be True
YOUR GOD IS NOT MY GOD YOUR RELIGION IS NOT MY RELIGION
MY GODDESS AND GODS Say Homosexuality is natural and Part of nature
there are 1500 Animals speices with homosexuality in them homophobia only exists in one speices which one seems unnatural now?
WE Do not live in a Theocracy if you choose to live in one go live in Iran and see how life is under a Theocracy We live in a Consitutional Republic Based on Liberty and Freedom and Justice for Everyone Our Godless consitution laws and our Founding fathers were very much Against Bible laws being made into Laws to Govern Man
Hebrew Bible Laws are for the Hebrews new Testament Bible Laws are For Christians YOUR LAWS DO NOT APPLY TO ME STOP USING YOUR GOD AND YOUR BIBLE AS A WEAPON TO JUSTIFY YOUR OWN HATE IGNORANCE AND PREJUDICE
YOUR RELIGION DID NOT CREATE MARRIAGE NOR DEFINES WHAT MARRIAGE IS ACCORDING TO YOUR RELIGION THIS IS TRADITIONAL MARRIAGE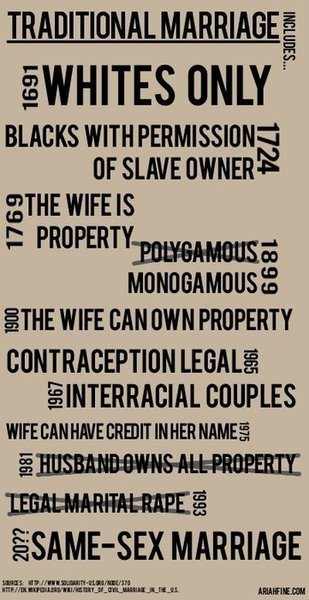 the origins of the word marriage Comes from the word Maier which means Bonding social unions under law
Marriage (or wedlock) is a social union or legal contract between people may also be called matrimony. People marry for many reasons, including one or more of the following: legal, social, libidinal, emotional, economic, spiritual, and religious. These might include arranged marriages, family obligations, the legal establishment of a nuclear family unit, the legal protection of children and public declaration of commitment
Marriage, as we know it in our Western civilization today, has a long history with roots in several very different ancient cultures, of which the Greek, Roman, Egyptian, Babylonian, Persian, Hebrew, and Germanic are the most important
at one time inter racial marriage was Illegal Do you not forget this America how Religious Right wings Denied people the Right to marry the person they love
Gay marriage and homosexuality is not going to Destroy the world or Destroy your marriage Gays and Lesbians have been Getting married for years and nothing bad has happened stop being afraid and using your bible and your God and your own ignorance to justify hate and Denying others the right to marry who they love
stop using your Bible every time you disagree with something the bible was written 3000 years ago and been Editted 300+ Times
its a book written by man, for man, to control man. it still contains immoral stories, but thats the whole point! there stories. even if Bible Thumpers argue that they were orginally the word of god, its been translated and re-written so many times by so many different men, that they have all put there spin on the interpretation, so it the word of man!
Life and the world was Differant 3000 years ago when the bible was Written it was written for the hebrews not the rest of the human race
More polls by ☥☽✪☾DAW ☽✪☾