Rihanna's See-Through Red Shirt and Bowling Shoes in NYC: Gotta Have It or Make It Stop?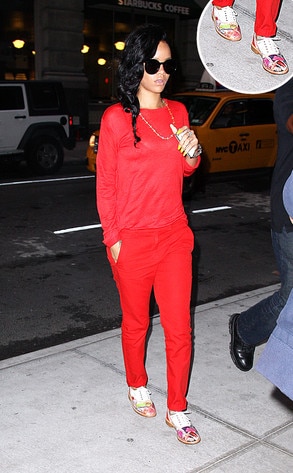 Sharpshooter Images/Splash
Let's be honest—Rihanna has never met a see-through outfit she didn't like.
For her, if she can't read her BlackBerry through the fabric then the
garment had better be A) skin tight, B) shorter than Britney's
attention span, C) sexy enough to spur a fight between Chris Brown and Drake or D) all of the above.
Think we kid? Check out the ensemble Ri-Ri wore to a recent dinner
out in NYC. At first glance, it appears to be a sensible, conservative
getup, at least for her...
READ: Rihanna Slams Claim of Armani Ad Body Double
But then came the bra, which was clearly visible under the bright
red top and teamed with matching slacks, a chunky red and metallic
bracelet and a simple gold necklace. The "Where Have You Been" singer
rounded it all off with a pair of—let's put this lightly—statement
bowling shoes.
So what do you think of Ri-Ri's peek-a-boo look—gotta have it or make it stop?
Read more:
http://www.eonline.com/news/rihannas_see-through_red_shirt_bo...
Add a comment above