Reese Witherspoon and Ryan Phillippe Look Happy Together: Should Divorced Parents Stay Friends for the Sake of the Kids?
Reese Witherspoon
and Ryan Phillippe weren't known for having the most amicable split. So it was surprising to seem them smiling together in a photo taken on Saturday at their son Deacon's soccer game.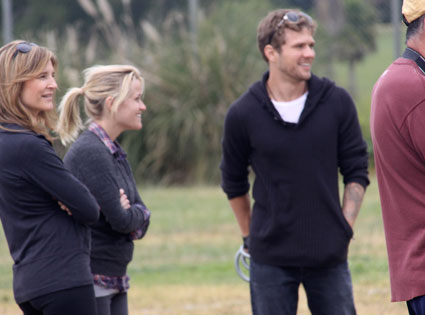 But despite the happy photo, one photographer who was there told X17online that the two hardly spoke to each other during the entire match.
"They put on a front like they were getting along and doing it for the kids but they basically didn't even talk to each other. You could see these two really didn't want to be together," the eyewitness said.
When the match was finished, they all walked out together, but 35-year-old
Witherspoon
and 36-year-old Phillippe still weren't talking, according to the source.
Witherspoon
married Phillippe, her "Cruel Intentions" co-star, in 1999. They had two children together, 11-year-old Ava and 7-year-old Deacon, and divorced in 2007. Witherspoon remarried Hollywood agent Jim Toth in March.
Even if they're not BFF, it looks like Witherspoon and Phillippe are friendly enough to attend their son's soccer game together. Do you think divorced parents should stay pals for the sake of the kids?
Read More: http://www.x17online.com/celebrities/reese_withers...
Add a comment above