"Pregnant Man" Splits From His Wife. DID ANYONE SEE THIS COMING?
Thomas Beatie, who made headlines in 2008 as the only legally recognized man known to have given birth, has separated from his wife of nine years. Beatie has had three children with his wife, Nancy. "Like all marriages, we have our ups and downs, and we're going through a rough patch right now. At the moment, we're separated." He also revealed that he's had the final female-to-male gender reassignment surgery.

Beatie was born a female, Tracy Lagondino, in 1974. He was a Girl Scout, model and finalist in a Miss Hawaii Teen USA pageant, before he began to dress and live as a man in his 20's. He had sex-reassignment surgery in 2002, took twice-weekly doses of testosterone, and had his breasts surgically removed during his female-to-male transition, before legally changing his gender on his passport and his driver's license. In 2003, he legally married Nancy, a divorced mother of two who had a hysterectomy due to endometriosis. Despite his legal male status, Beatie left his female reproductive organs in place and had never undergone "bottom" surgery, known as phalloplasty, to create an artificial penis -- until now.
DID ANYONE SEE THIS COMING?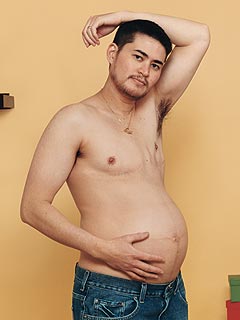 Read More: http://tv.yahoo.com/blogs/upshot/pregnant-man-thom...
Add a comment above