Pizza Vending Machines Coming to the U.S.: Great or Gross?
Craving a slice of pizza, but don't have the time/patience to get yourself over to your local pizza joint and wait for a slice? Enter the pizza vending machine. Let's Pizza, a vending machine that creates pizzas from scratch in 2.5 minutes, is coming to the U.S.
The machine, which contains an infra-red oven, is distributed by A1 Concepts, and it's already a hit in Europe, especially Italy. "The machine contains a specially developed bag of flour and a bag of mineral water. Every time you order a pizza, the machine will start making the dough, then shape it into a crust, and top it with organic tomato sauce," A1 Concepts' CEO Ronald Rammers says.
And yes, toppings are available. "We have our own facilities where we produce the toppings and it is possible to create any kind of pizza -- meat, fish, vegetarian, any kind," he adds. The suggested retail price for [an approximate 10.5-inch] pizza is $5.95, which is more than a tasty New York City slice but not so bad for a 10.5-inch pie. Rammers says you'll find Let's Pizza at malls, airports, hospitals, restaurants, hotels, supermarkets, universities, gas stations, bus stations, etc. Would you give it a try?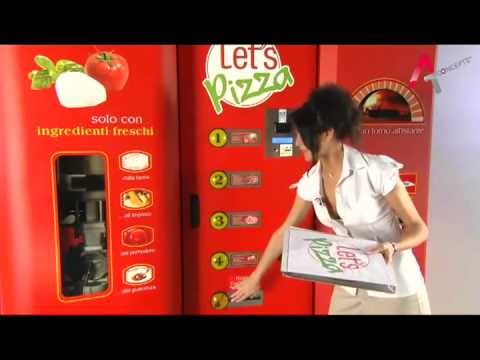 Add a comment above