Oskar the Blind Kitten Is a YouTube Star: Adorable or Overhyped?
Move over, Rebecca Black. The latest YouTube star is a lot cuter than you are. Oskar the blind
kitten
has more than 1.8 million views and his own Facebook page. Here's how it all came to be. Mick Szydlowski and his wife, Bethany, discovered Oskar by accident, when they were trying to buy an autoharp.
Oskar, the last of the litter, was born without fully-formed eyeballs -- and he literally landed in their arms, the "Today" show reports. Oskar's owner was considering taking him to an animal shelter, so the Szydlowskis decided to adopt him.
"My wife was holding him, kind of like a baby, and rocking him back and forth. He was completely relaxed; his little arms were just flopping by his side, and honestly, he looked like he was smiling," Mick told TODAY.com. Within five days, the Szydlowskis' other cat, Klaus, had accepted and begun caring for Oskar. And Oskar quickly made himself at home.
"What really blew us away is that from day one, his other senses really took over, which you can see in the video of him with his toys," Mick said. "Within a matter of a week or so, he knew the layout of our entire house. We could pour his food on one side of the house when he was sound asleep at the other end, and he could wake up, jump off the bed, and perfectly navigate his way to the bowl." Do you think Oskar is a cutie -- or overhyped YouTube fodder?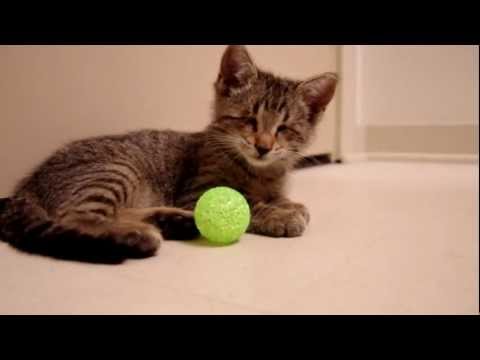 Add a comment above