New Net Laws: Trust Government to Regulate the Internet?
Politicians want to win re-election by looking good to their constituents. They herald new laws, regulations, guidelines and policies in the name of protecting the people, helping the little guy or saving us from calamity. However, government often passes the same law over-and-over again --
the law of unintended consequences
.
Government doesn't understand technology enough to legislate or regulate it. They cannot keep up with the dynamic nature and rapid progress of technology. By the time the politicians have committees, get consulted and think they know, the technology changes. Their laws create burdens for businesses and criminals ignore the law anyway. The laws end up hurting consumers, businesses and internet users more than they help.
Read this editorial from PCWorld about some new laws on the way that will hurt the Internet.
Think what Congress and state legislatures do is boring? Read on to see what Internet and/or privacy rights you might lose if some of this misguided legislation passes.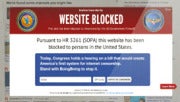 Read More: http://www.pcworld.com/article/257247/10_terrible_...
Add a comment above