London Bar Installs Urinal Video Games: Great or Gross?
Did you know that the average male spends fifty-five seconds
peeing
each time he uses a urinal? Generally, that means about a minute of staring at a blank wall. However, for blokes in London, going to the loo has just become a lot more exciting.
The Exhibit bar in Balham recently installed a number of
urine-controlled video games
in its men's bathroom. The system, developed by UK-based Captive Media, is the brainchild of Gordon MacSween.
Before and after the user approaches, ads are displayed on the 12-inch LCD screens fitted on the wall at eye-level, just above the urinal. When the sensors detect that the individual is in place and ready to pee, the system switches into gaming mode. According to the company's website, "Sophisticated algorithms then allow the user to do something simple, but VERY engaging—controlling the system just by aiming their stream left or right!
And of course, great video games must incorporate some competitive element. So, at the end, after the player has relieved himself, he is encouraged to post his score via mobile to Twitter and a live leader board.
During its trial run in a bar in Cambridge, MacSween noticed that the system encouraged a couple of behavioral changes among urinal users. "There has been less mess, which we sort of expected because we designed the game so you're not splashing about, and less vandalism," he said. "When we put it in, people thought it'd be ripped off the wall within a week, but it's still there after four months. Because people are having a laugh, there's a lot less vandalism. People just tend to get less angry."
Thus far, there's no word on whether or not Captive Media has plans in store for women's restrooms.
What do you think about urinal video games? Are they great or gross?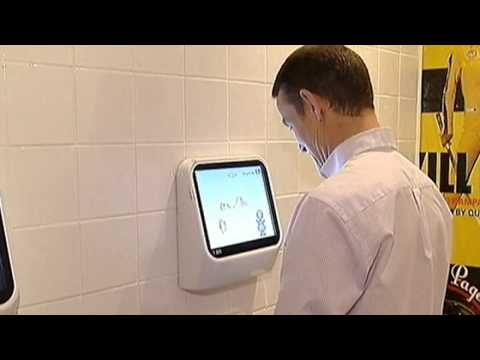 Read More: http://www.digitaltrends.com/gaming/worlds-first-p...
Add a comment above