Ke$ha Looks Normal at the American Music Awards: Do You Like Her New, Cleaned-Up Look?
You might be used to seeing Ke$ha dressed up like the creature from the black lagoon with highlighter on her face, or maybe you're used to her more toned down trashbag outfits, but I bet you're not used to the look Ke$ha debuted at the 2012 American Music Awards Sunday night: normal.
The "Tik Tok" and "Die Young" singer walked the red carpet in a classic, off-white lace dress. She styled her hair in soft curls and wore minimal makeup. And there was no roadkill on her body at all. Do you like her new, polished look over her crazy rock star vibe?

STYLENEWS.PEOPLESTYLEWATCH.COM reports:

The singer gets a serious makeunder for the American Music Awards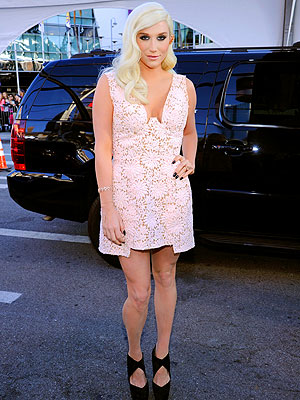 Read More: http://stylenews.peoplestylewatch.com/2012/11/18/a...
Add a comment above