Is Smashing Things a Good Way To Relieve Stress? (Clients of the Anger Room Sure Think So)
Have you ever had such a bad day that you just wanted to break something? Or maybe throw a piece of furniture across the room? Well, now a Texas entrepreneur has devised a socially acceptable way for you to spew your rage.
The
Anger Room
is the brainchild of Donna Alexander, who first launched the business out of her garage. Friends seeking to relieve
stress
would come over and take baseball bats to old junk in the room. When word got out about what they were doing, strangers began to show up and demand became too much to handle. That's when Alexander decided to turn the Anger Room into a legitimate business.
Now when clients come to the Anger Room's new location in a Dallas strip mall, they are decked out in safety goggles and helmets to protect themselves. They then enter a room filled with old furniture and electronics, arranged to look like an office, bedroom, or kitchen. Once inside, anything is fair game. You can smash, break,
throw
, and destroy to your heart's content.
If you want, you can also take out relationship stress on mannequins. Alexander told a Dallas TV station that some customers "put pictures on them, write on them, and then they try to beat the crap out of them."
Anger Room sessions are available in three time options: "I need a Break!"—$25 for 5 minutes; "Lash Out"—$45 for 15 minutes; and "Total Demolition"—$75 for 25 minutes. The rates are pretty affordable considering you don't have to collect the items or do any of the setup and cleanup.
So what do you think SodaHeads? Is smashing things a good way to
relieve stress
?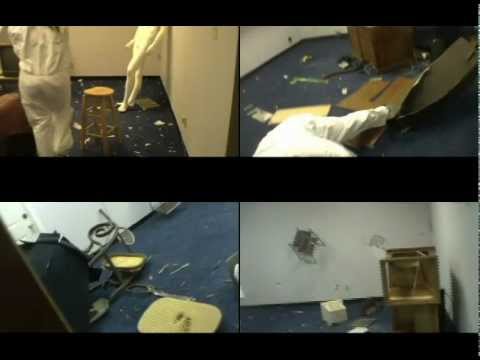 Read More: http://newsfeed.time.com/2012/05/12/go-ahead-smash...
Add a comment above