Is 'Sexy' Wii Game Appropriate for 12-Year-Olds?
If you thought
"Skins"
was bad, you'll definitely have a problem with the
new Nintendo Wii game
, "We Dare."
The "sexy party" game has been rated as appropriate for children over 12, even though the trailer features two couples stripping and spanking each other.
"The more friends you invite to party, the spicier the play!" a promo for the game says.
The game, which is unavailable in the U.S. but goes on sale in the U.K. on March 11, is described as a "sexy, quirky party game that offers a large variety of hilarious, innovative and physical, sometimes kinky, challenges."
The game also reportedly "suggests" same-sex kissing, orgies, pole-dancing and wife-swapping.
Needless to say, British parents are upset about the 12+ rating.
"I have a 13-year-old daughter and if I knew she was playing such a highly charged sexual game with boys, I would be appalled," 
Laura Pearson, 52, told The Daily Mail. "It is encouraging under-age sex."
But another mom said the game is "just a bit of harmless fun."
"It's only like a modern-day Spin the Bottle," Sandra Betts, who has a 15-year-old son, told the paper.
Perhaps she hasn't seen this trailer for the game. What do you think? Is "We Dare" appropriate for kids?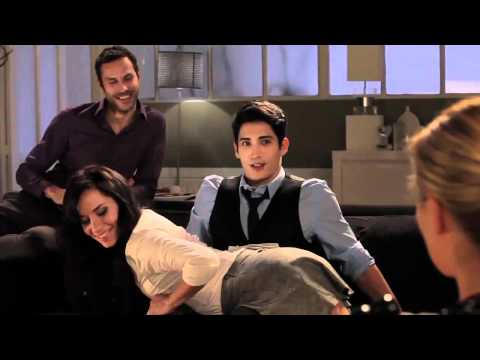 Read More: http://www.dailymail.co.uk/sciencetech/article-136...
Add a comment above