Is It Safe To Smoke Kudzu?
I have a friend who smokes this stuff and swears he gets a buzz off it similar to marijuana and it's safe. He said that with this stuff growing all over the South... let the government outlaw smoking it as that would means a war on weed they can't win because this stuff is the ultimate survivor and is all over everything during the late Spring to early Fall.
Have any of you smoked this stuff? I never knew it could be smoked I must admit but if it in any way gives people a buzz... the marijuana people may have just found an alternative.
Kudzu has may of the properties of Kudzu as Kudzu vines are extremely tough like hemp and if you ever need liquid refreshment while you are thirsty, the vines are usually full of water. Apparently, there's a movement out there now spreading the idea of smoking pot instead of marijuana because there's no way the government can stop you because they can't stop this weed... they've spent untold millions trying to kill it but like fireants, this is one invader they haven't found a way to stop.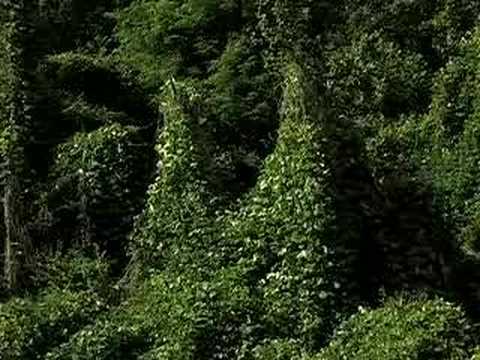 And kudzu is now being used to fight alcoholism and cocaine addiction so it's a good weed
http://www.timescolonist.com/health/Kudzu+extract+treat+cocai...
And even helps stop smoking tobacco breaking cigarette addiction which other research I did reveals kudzu isn't addictive
http://www.prlog.org/10022006-kudzu-to-help-stop-smoking.html
and can even be eaten with effects like curing hangovers absolutely proven true.
It seems that studies everywhere are finding kudzu to be a natural cure for many of our worst addiction and even nullifies some of the after effects because ingredients in it. It makes excellent animal feed and people courageous enough to try eating it like the Chinese and others in Asia do swear the stuff actually tastes pretty good. They use it for a lot of things including to stop death when you've been poisoned
http://www.prlog.org/10047034-kudzu-to-help-stop-smoking.html
However, read this one and those of you who believe in global warming... get ready for a shock
http://www.grouchyoldcripple.com/archives/004993.html
That's right, like everything else including cow farts, kudzu causes global warming lol.