Have you heard the story of Ceiling cat? and the lol bible?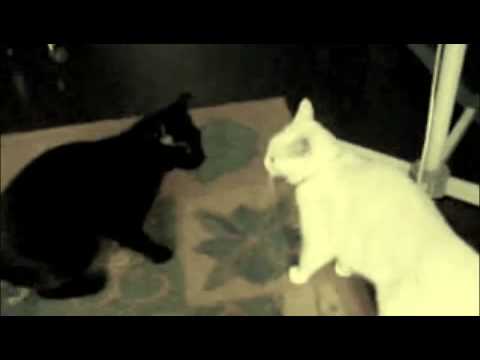 In the Begining there was Ceiling Cat But he was Bored so he made the universe in his meowness...
And all was good in the world
lol cats called to ceiling cat for food and so ceiling cat sent them food
cheeseburgers
Ceiling cat noticed that the world was empty and needed something
so ceiling cat created man
and gave man knowledge
and told man to go forth and feed the kitties
but man defied lol cats everywhere so they prayed to ceiling cat
who told man
but then they got hungry again so ceiling cat let man back in after an hour
the lol cats asked ceiling cat what do you command
and so ceiling cat responded
here are my commandments sayth the ceiling cat
and so the word was written
man and lol cat ruled the lol bible
man was lonely so celing cat gave unto him lol dog
and all was good
Ceiling cat took a cat nap and left his angels in charge
after his nap celing cat was told what was happening on earth
and he was mad so he sent his son happy cat
who purrrrrrrrrrrrrrrrfected the art of bringing knowledge to everyone how to open the can opener and bring forth love and peace unto all of the world
but sin still happened and ceiling cat forgave all
many began to study ceiling cat
then ceiling cat got a make over and was kinder to man
Happy cat began to teach lol cats and man the word
the word was Cheeseburger
and blessings to all walk of life thanked ceiling cat for the nomz
some still did not believe in Ceiling cat
and so it was good to all except the angry nun cats who took a vow no nook nook
as time went on people and lol cat began to forget ceiling cat
so he would play pranks on the humans
then some nutty lol cats started to make thier own lol bibles changing the word of ceiling cat and asking ceiling cat un speakable things
many signs were made but few understood them for lol cats are color blind
That is the story of Ceiling cat in the begining
if you do not believe this to be true
to be continued
next chapter Basement cat!
Add a comment above
More polls by ☥☽✪☾DAW ☽✪☾