HAVE YOU EVER HAD A Wet Phone? How To Dry Out Your Phone and Waterproof It?
DRY OUT TIP #1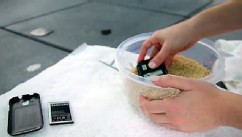 ABC News
Of course, the first thing you should do with your wet phone is dry it off. Yes, it sounds obvious, but really dry it off. Get a towel and sop up all the water you can. You can even use a straw. (Okay, don't do that if you dropped your phone in the toilet.) Do not -- we repeat, do not -- use a blow dryer; the heat can damage the phone.
If you have a phone or a gadget with a cover that comes off, take it off, and take out the battery, the SIM card, and anything else that can easily be removed. Dry all those things off.
The next step might seem a bit crazy, but get a bowl and fill it up with rice. Yep, regular rice from the supermarket. Bury your phone in the bowl and keep it in there for 12 to 24 hours. Rice absorbs moisture and has long been used as a wet-gadget-saving measure.
It doesn't always work. While the rice method saved a wet Samsung Android phone of ours, it didn't do the same for an iPhone that had been dropped in the toilet. Again, all these methods are highly dependent on what sort of phone or gadget you have and how bad the water damage is.
DRY OUT TIP #2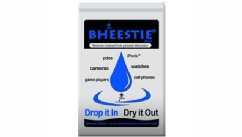 Bheestie
Silica gel packets are an alternative to rice. And a company called Bheestie actually sells a special bag that is meant just for saving your wet gadgets. The bag costs $18.14 (or $20.00 at some places) and has special packets inside. They aren't your typical silica gel packets either -- the little packets have a special molecular sieve desiccant formula, according to the company. Open the bag, drop your phone in for 24 hours, and the phone might just come out working again. The bag did work with an old BlackBerry, but we didn't have an extra iPhone for a test. According to the company, the bag soaks up water 700 percent better than rice. It is available through Amazon.com and other e-tailers.
Read More: http://abcnews.go.com/Technology/wet-phone-dry-pho...
Add a comment above