Fundamentalist Christians 'Beat' daughter to death in the name of God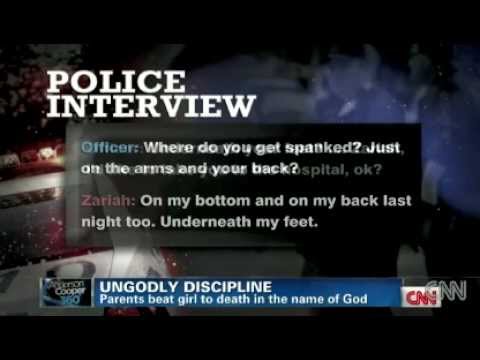 a fundamentalist Christian couple who killed their 7-year-old adopted daughter while practicing a violent form of discipline.
They reportedly beat their nine children regularly because they thought God wanted them to.


A California couple is behind bars after pleading guilty to torturing and murdering their seven-year-old adopted daughter.
According to CNN, Kevin and Elizabeth Schatz of Paradise, California beat seven-year-old Lydia Schatz to death because they believe "God" wanted them to. The couple beat Lydia for seven consecutive hours, with breaks for prayer, on the day she died. When police arrived at the Schatz residence, Lydia was still alive. An officer administered CPR, but it was too late.
The marathon torture session was allegedly sparked by the mispronunciation of a word during the Liberian-born child's homeschool lesson.
"We have heard the phrase 'death by a thousand lashes," Butte County District Attorney Mike Ramsey told CNN. "That's basically what this was."
Lydia was beaten with, among other things, a 15″ plumbing supply tube, called a "biblical rod" by the Schatzes.
The Schatzes didn't only beat little Lydia; all nine of their children were victims of regular torture. Eleven-year-old Zariah was beaten so severely that she almost died too; all eight surviving children were placed in foster homes when Kevin and Elizabeth were arrested.
The couple was apparently heavily influenced by a Christian child-rearing book titled To Train Up a Child by Michael and Debi Pearl of Tennessee-based No Greater Joy Ministries.
Ramsey told CNN that there is "no doubt" the book influenced the Schatzes.
CNN interviewed the book's authors at their Tennessee home. "If you spare the rod, you hate your child," Michael Pearl explained, "but if you love him, you chasten him timely." "God would not have commanded parents to use the rod if it were not good for the child," the book states.
Kevin Schatz, who pleaded guilty to torture and murder, will face at least 22 years behind bars. His wife will be locked up for at least 12. At Kevin's trial, 11-year-old Zariah courageously faced her tormenter and asked him: "Why did you adopt her (Lydia)? To kill her?"

Read More: http://morallowground.com/2011/08/16/kevin-elizabe...
Add a comment above
More polls by ☥☽✪☾DAW ☽✪☾