First Lady and Jimmy Fallon Perform 'Evolution of Mom Dancing': Is Michelle Obama a Good Dancer?
President Barack Obama's wife, First Lady Michelle Obama, has
captivated
the nation over the last four-plus years. Her style, swagger, and warm personality have become a trademark of sorts. Maybe it is her youth and being in touch with pop culture--or the fact she likes to have fun.
Both Obamas have always been lighthearted and don't have any problems poking fun at themselves, especially the President who joked on Reddit about his "not bad" face going viral as a meme. The First Lady recently appeared on the popular TV show "Late Night with Jimmy Fallon," to take part in a fun
skit
many won't be forgetting anytime soon.
In order to promote her
Let's Move! campaign
, Obama joined the set of Fallon for the "Evolution of Mom Dancing," a video that has now gone viral. The skit pokes
fun
at how moms dance and features Fallon rocking a wig and female clothing. Obama not only shows her comedic side, but even busted out the Dougie, much to the chagrin of Fallon who's not exactly the best dancer. Not bad for a mother of two and the First Lady.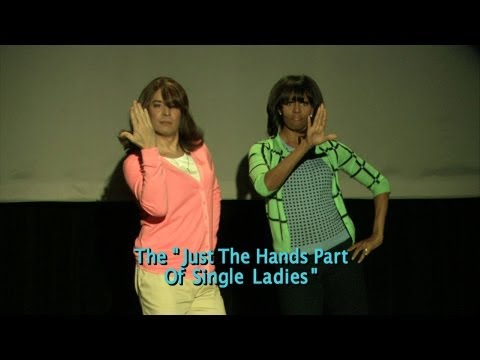 Read More: http://www.csmonitor.com/USA/2013/0223/Michelle-Ob...
Add a comment above