Coca-Cola Constructs Eco-Friendly Billboard: Brilliant or Bunk?
The Filipino branch of Coca-Cola has teamed up with WWF to construct a
billboard
that's not just
eco-friendly
-- it's eco-beneficial.
The billboard, put up in Makati City in the Philippines on Thursday, is coated with tiny CO2-absorbing plants, Popsop reports, and reads, "This billboard absorbs air pollutants."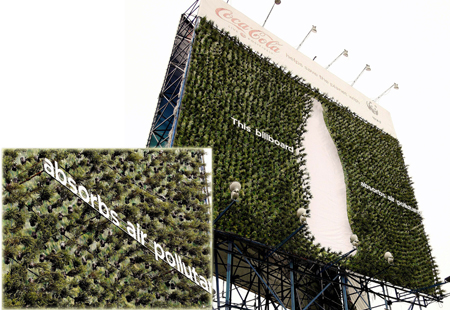 We are proud that we have brought to life the first plant billboard in the country. It is an embodiment of our company's Live Positively commitment to making a positive difference in the world by incorporating sustainability into everything that we do. With this, we hope to inspire Filipinos to join us in our journey, because we know that together, we can make a positive impact.
Every part of the billboard was constructed with the environment in mind, from recycled Coca-Cola products used in the structure to the 3,600 small trees dotting the surface.
It's expected to be able to absorb around 46,800 pounds of CO2 in its lifetime.
Read More: http://popsop.com/47156
Add a comment above