Christopher Hitchens, wit, liberal, bon vivant - 1949-2011 - R.I.P.
Christopher Hitchens died last night of esophogeal cancer at the MD Anderson Cancer Center in Houston, Texas. "Hitch" was knowledgeable about many things, and his writings were always exquisite. He could be very cutting in his remarks, but when the rubber hit the road, he seemed to be a good guy doing the right thing.
At the end, Hitchens was more engaged, relentless, hilarious,
observant, and intelligent than just about everyone else—just as he had
been for the last four decades.

"My chief consolation in this year of living dyingly has been the presence of friends," he wrote
in the June 2011 issue. He died in their presence, too, at the MD
Anderson Cancer Center in Houston, Texas. May his 62 years of living,
well, so livingly console the many of us who will miss him dearly.
Vanity Fair &...

I am an avowed conservative, but I have always liked "Hitch" because I think he honestly and without malice believed everything he preached and I believe he had a big heart. May he rest in peace.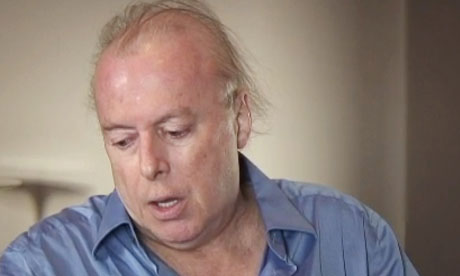 Read More: http://www.vanityfair.com/online/daily/2011/12/In-...