Carmageddon: Did Media Overhype LA Traffic?
The media told us that Los Angeles will grind to a halt and fall into the ocean... What will cause this major disaster? An earthquake. No. Traffic caused by a freeway closure. And the media dubbed it "Carmageddon."
"Nobody walks in LA." Everybody drives cars -- even for a few blocks. Angelinos don't use public transportation either.
Los Angeles has a mountain separating the northern portion, called "The Valley" from the rest of the city. The 405 freeway passes through this mountain just north of UCLA. We call it "the Sepulveda pass."
Construction work on a bridge requires shutting down the freeway through the Sepulveda Pass for 56 hours.
The media has hyped this as Carmageddon because they expected the ensuing traffic jams to shut down the city.
JetBlue offered $4.05 flights from one side of the city to the other (Burbank to Long Beach).
Western Bagel, a bagel shop along the 405 freeway and Sepulveda, offered a dozen bagels for $4.05.
Angelinos planned backyard bbq parties with neoghbors so we wouldn't have to drive far.
Kids started selling shirts "I survived Carmageddon."
But, the last I looked at the traffic map, I haven't seen any traffic. I've heard reports of people traveling the freeways with no traffic.
The media overhyped the potential traffic nightmares in LA when the city hosted the 1984 Olympics. My family swapped homes with a family in Hawaii so we could get out of town. But nothing happened. I heard the city enjoyed great harmony and no traffic during that time.
Perhaps the media failed again.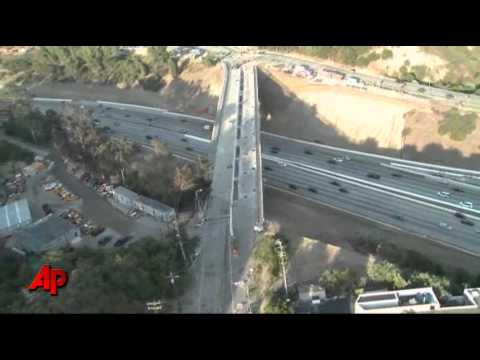 click the link for real-time LA traffic report.
Read More: http://maps.google.com/maps?q=Encino,+Los+Angeles,...
Add a comment above