10 mysteries of the Earth, science Cant Explain
15 votes

10%

6 votes

4%

45 votes

30%

22 votes

15%

9 votes

6%

7 votes

5%

14 votes

9%

13 votes

9%

19 votes

13%
The Word has many mysterious we have yet to unlock here are some of them
an intresting controversy in science, the Mima Mounds are "fun phenomena." Nevertheless, the biggest of them on the Mima Prairie, near Little Rock, Washington, are very impressive. They are closely-packed, some 6-8 feet high and about 30 feet across. It's kind of eerie walking among them; but they are also fun to ride over in vehicles -- they create a sort of natural roller-coaster effect
Found in such exotic locales as Kenya, Mexico, Canada, Australia, China and in similarly off-the-beaten path locations as California, Arkansas, Texas, Louisiana, and especially Washington state, the mounds first appear to be just that: mounds of earth.
The first thing that's odd about the mounds is the similarity, regardless of location. With few differences, the mounds in Kenya are like the mounds in Mexico which are like the mounds in Canada which are like the … well, you get the point. All the mounds are heaps of soil from three to six feet tall, often laid out in what appear to be evenly spaced rows. Not quite geometric but almost. What's especially disturbing is that geologists, anthropologists, professors, and doctors of all kinds – plus a few well-intentioned self-appointed "experts" –can't figure out what they are, where they came from, or what caused them.
as some have estimated, they are about 6,000 years old, they were originally twice as high before the elements wore them down. The big question is and always has been: How were these large heaps of churned-up sand, fine gravel, and decayed vegetable matter formed?
One has to smile at the dominant theory: pocket! Sure! pocket gophers are bundles of digging energy, but each Mima Mound contains about 100 tons of soil. Multiply that figure by the thousands of mounds, and you begin to wonder about the gopher theory. Also counting against the gophers is the fact that no one has ever found gophers in the mounds, nor has a single gopher bone been found
One of the leading theories is that they are man-made, probably by indigenous people. Sounds reasonable, no? Folks in loincloths hauling dirt in woven baskets, meticulously making mound after mound after … but wait a minute. For one thing it would have been a huge amount of work, especially for a culture that was living hand-to-mouth. Then there's the fact that, as far as can be determined, there's nothing in the mounds themselves. Sure they aren't exactly the same as the nearby ground, but they certainly don't contain grain, pot shards, relics, mummies, arrowheads, or anything that really speaks of civilization. They are just dirt. And if they are man-made, how did the people in Kenya, Mexico, Canada, Australia, China, California, Arkansas, Texas, Louisiana, and especially Washington state all coordinate their efforts so closely as to produce virtually identical mounds? That's either one huge tribe or a lot of little ones who somehow could send smoke signals thousands of miles. Not very likely.
they stretch for more than 20 miles. More than 30 theories
exist as to the origin of these "Mounds of Mystery - many of which contain over 100 tons of soil - and there are
thousands of them. The most popular theories attribute the mounds to pocket gophers working over 6000 years
while others blame the phenomena on seismic activity, tsunamis, glaciers, permafrost, and even ufo's - which
have a history of sightings near Mount Rainier. The seismic theory is based around the phenomena that if you
tap on a sheet covered with sand the sand will clump together into small dimples - looking like "mini" mounds
The "natural" theory of nature being responsible for the Majorly Mysterious Mima Mounds starts to crumble upon further investigation. Sure there's plenty of things we don't yet understand about how our native world behaves scientists do know enough to be able to say what it can't do –
2.Oregon mysterious circles
mysterious circles in oregon found near
The Hart Mountain Antelope Refuge Road runs right by this larger circle site within the Harney Basin near the Warner Mountains in the South East corner of Oregon. The area is grassland with a desert mix
ust to the North of the concentric circles, another circle can be seen that is approximately 1,100 feet wide
The circle is over 800 feet wide with five concentric rings whose approximate average width is 28 feet wide.
this one is 300 feet wide
3.Mysterious Circle in Egypt
Mysterious Circles in Egypt that for some strange reason Sand from the Desert doesnt enter the circles
4.The Tunguska Event
The Tunguska event, or Tunguska explosion, was an enormously powerful explosion that occurred near the Podkamennaya Tunguska River in what is now Krasnoyarsk Krai, Russia, at about 7:14 a.m. KRAT (0:14 UT) on June 30 [O.S. June 17], 1908.
The explosion is believed to have been caused by the air burst of a large meteoroid or comet fragment at an altitude of 5–10 kilometres (3–6 mi) above theEarth's surface. Different studies have yielded varying estimates of the object's size, with general agreement that it was a few tens of metres across.
The number of scholarly publications on the problem of the Tunguska explosion since 1908 may be estimated at about 1,000 (mainly in Russian). Many scientists have participated in Tunguska studies, the best-known of them being Leonid Kulik, Yevgeny Krinov, Kirill Florensky, Nikolai Vladimirovic Vasily, andWilhelm Fast.
Although the meteoroid or comet burst in the air rather than hitting the surface, this event is still referred to as an impact. Estimates of the energy of the blast range from 5 to as high as 30 megatons of TNT
E670/0077
Tunguska event site. Researcher A. Zolotov (left) sampling soil at the site of the Tunguska event. The Tunguska event was a massive explosion that took place at 07:17 on 30 June 1908, in Siberia, Russia. A fireball was observed low in the sky, moving north-west, followed by a series of loud knocking sounds and a shock wave that was felt hundreds of kilometres away. Expeditions to the area found immense damage, with over 3000 square kilometres of forest flattened. It is thought that the explosion was a meteorite or comet breaking up and exploding above the surface. RIA NOVOSTI/SCIENCE PHOTO LIBRARY
After 90 years, the explosive event at Tunguska, Siberia in 1908 remains one of the most puzzling natural disasters in recent history. On June 30 of that year, a blazing fireball descended from the sky and devastated an area about half the size of Rhode Island. Trees were felled for miles in a radial pattern, fires burned for weeks and the sound of its thunder could be heard at great distances. It's been estimated that its explosive force was equal to more than 2,000 Hiroshima-type atomic bombs.
What it was that fell on Tunguska that fateful day is still a mystery. Although for many years scientists thought it was probably a meteor that exploded over the Siberian wilderness, today's best guess is that it was probably a comet. The change in theory came about because no meteor fragments could be found at the scene. In fact, there was very little evidence of any kind to explain precisely what occurred that day.
This lack of hard evidence led, as if often does, to wild speculations: a UFO with a nuclear reactor had crashed; a powerful electric weapon created by Nikola Tesla was intentionally or accidentally aimed at the area from somewhere across the globe.
In recent years, the Tunguska event has received renewed attention as we realize more clearly that the Earth is at risk at almost any time from a strike from outer space
5. Roswell Rods
Here is a bizarre new life form for cryptozoologists and skeptics to fight about - Rods! What are rods you ask? Rods are thin, unidentified organic life forms that fly (or ride air currents) in the sky. They range from 4 inches to over 100 feet long, some having short appendages. They fly rapidly and are almost impossible to see with the untrained eye. There are three distinct types of rods: centipede rods, white rods, and spears. They have been reported throughout the United States, Canada, and worldwide, and are visible in all seasons. They appear to be living, breathing organisms playing among the clouds.
Sightings of "rod-like" creatures in the sky date back to early history. Large, flying serpentine creatures were reported in China in 747 AD, in Europe during the late middle ages, and in the United States in 1894. However, these "rods" do not resemble serpentine creatures; instead, they look like string or rope floating in the sky.
6. Richat Structure
The huge eye of the earth in the Sahara desert, Richat Structure, Mouritania
Located western edge of Sahara desert at central Mauritania in northwest Africa, there is a giant circle called Richat Structure, whose diameter ranges as long as 38km.
First, Richat structure was considered an impact crater. However, by the fact that it doesnt contain any particular mineral and that the depth is too shallow for its diameter, it is considered a dome structure formed by intrusive rock. Rim of the dome is composed of quartzite, which is quite strong against erosion and higher than the surrounding area by about 100mt.
As seen at the upper part of the image, Makteir sand dune spreads to the north of Richat Structure
7.Gravity Hills
There are dozens of mystery spots to be found around the U.S., and many more gravity hills - places where gravity itself seems to be warped. Our perceptions of up, down, straight and crooked are confused by what some say are powerful gravitational anomalies and dizzying magnetic vortexes. Is that the case, or are our senses being fooled by clever man-made and natural optical illusions?
Here are just some of the more well-known locations
The Mystery Spot - Santa Cruz, Ca.
Discovered in the 1940s, this site on Branciforte Drive in Santa Cruz just might be the most well-known "mystery spot" in the U.S. Tour guides walk visitors through the "Mystery Shack" that stands on this spot and demonstrate the many weird effects that seem to take place there. Balls roll uphill, brooms stand on end at odd angles, people's heights seem to change as they walk about, among other weird effects of perspective and gravity. Even the trees in the area do not stand straight. Some visitors actually feel faint within the shack
Spook Hill - Lake Wales, Fl.
Located between Orlando and Tampa, this stretch of road off Hwy. 27 is said to have gravity-defying effects on cars. The phenomenon on the sloping road is so well known that there is a sign on the roadside explaining its legend:
"Many years ago, an Indian village on Lake Wales was plagued by raids of a huge gator. The chief, a great warrior, killed the gator in a battle... The chief war buried on the north side. Pioneer mail riders first discovered their horses laboring down hill, thus naming it 'Spook Hill.' When the road was paved, cars coasted uphill. Is this the gator seeking revenge, or the chief still trying to protect his land."
the incline of the roadThe story is local folklore, obviously, but drivers do attest that when they stop their cars at a certain spot and shift their transmissions into neutral, the cars do seem to roll
The Mystery Spot - St. Ignace, Mi.
Like the Santa Cruz Mystery Spot, this one in Michigan's upper peninsula also features an old shack situated on a sharply sloped landscape. Balls and water appear to defy gravity by moving uphill
The Oregon Vortex - Gold Hill, Or.
Some kind of magnetic vortex - a spherical field of force, half above the ground and half below - is said to be responsible for the peculiar effects experienced at this site's House of Mystery. Those who visit the spot, it is claimed, cannot stand erect anywhere within the vortex, but are always inclined toward magnetic north. Distortions in perceived perspective are also affected, giving the impression, in some spots, that as a person approaches you he or she becomes shorter. There are other weird effects as well
Gravity Hill - Bedford County, Pa.
It's a place where gravity goes haywire, says one article about this hill near New Paris, Pa. A "GH" spray-painted on the road tells you when you've found the spot where you can stop your car, shift it into neutral, then sit in amazement as it seems to slowly begin to roll uphill. If you're still in doubt, you can do as other experimenters have done and pour water on the road - and watch as it flows uphil
Gravity Hill - Franklin Lakes, N.J.
This gravity hill on the Ewing Avenue exit of Rt. 208 South has one of those "ghost child" stories attached to it. The reason cars appear to roll uphill in defiance of gravity is because the ghost of a little girl pushes them that way. The little girl, the story goes, was killed by a passing car when she dashed into the road to fetch a ball. It's either that or some kind of anomalous magnetic field, they say, which also causes balls to roll up the hill instead of down
Gravity Hill - Salt Lake City, Utah
This gravity hill is located a few blocks northwest of the Capitol building in Salt Lake City. On a road that leads down into a canyon, supposedly, gravity works against known physics. If you stop at the bottom of the hill here, they say, and put your car in neutral, the car will coast back uphill out of the canyon. There's a legend behind this one, too. Someone named Elmo is buried in the area, so the story goes, and his gravestone glows blue at midnight. It's the force of this ghostly presence that warps gravity.
8.Killer Fog
FOG HAS PLAYED a starring role in countless horror and science fiction films. It provides a creepy atmosphere or a thick vaporous curtain out of which can appear a stalking vampire, a stumble of zombies, a clawing monster or a troupe of aliens. The fog masks the unknown.
It can also kill.
Untold numbers of shipwrecks and car accidents have been attributed to the reduced visibility that fogs create. Ships rely on lighthouses and other beacons to help them through. And in San Francisco, drivers have The Emergency Fog Alert System, an array of webcams that keep vigil for the arrival of fog from the bay. A whole slew of car accidents and numerous deaths were blamed on fog near Calhoun, Tennessee from the early 1970s to the 1990s. In this case the fog was intensified by the polluting output of a local paper plant.
There have also been numerous cases in which fog has killed people directly. In virtually every case, these killer fogs have been the carriers of industrial atmospheric pollution:
Sixty Belgians were killed in 1930 when fog conditions concentrated pollutants in the Meuse Valley for six days.
Nearly half the population of Donora and Webster, Pennsylvania were sickened in late October, 1948 by a fog that held industrial pollution in the small towns. So dense was the fog that one could not see clearly across a city street. The death toll: 20 lives.
12 Thousand Londoners were killed in December, 1952 when a toxic fog descended on the English capital. The fog, carrying a deadly mixture of dense coal smoke, literally poisoned the populace and is still considered one of the deadliest environmental incidents on record. The black fog was so thick that some reported they could not even see their feet as they walked the London streets. The lethal fog lasted from December 5 to the 9th, and in the end as many as 12,000 were dead from its effects.
On May 3, 1989, the residents of Culham in Oxfordshire, England were plagued by nosebleeds and sore throats due to a thick fog that clouded the village. (Source: The World's Most Incredible Stories, 1992, Barnes & Noble Books.)
In mid-October, 2005, the city of Lagos, Nigeria was enveloped in a mysterious fog that caused serious illness. After people began complaining of severe stomach pains and eye irritation, the governor of the region closed all the city schools as a precaution. People were driven out of their places of work because of the bad odor, and visibility in some places was reduced to 100 meters. Laboratory tests of the fog vapor showed that it contained high levels of sulphuric acid. A broken petroleum pipe might have been the cause.
Occasionally, fog kills even without pollutants. A fog bank killed more than 5,000 songbirds over the Bay of Fundy, between New Brunswick and Nova Scotia, Canada in June, 2004. The birds apparently died of hypothermia when they flew into the cold fog. Lobster fisherman said the birds were just dropping from the sky, some landing dead on their boats.
That's normal fog and pollution. But there are kinds of fog that form in the realm of the paranormal - and the effects can be even stranger.
9.Blue Jets and Red Sprites
blue jets and red sprites are actually the names of what occurs above the clouds during a lightning storm. Only visible from space or from an airplane
Sprites and jets are always associated with lightning storms. Sprites are red most of the time and happen as high as 50 miles off the surface of the ground, while jets shoot directly out of the tops of storm clouds, sometimes traveling as far as 30 miles up into the Ionosphere
Researchers think the phenomena has something to do with whatever is causing the lightning we see in every storm, but beyond that, they don't seem to know.
They know the sprites kick off as a result of a lightning strike on the ground
10.Earthquake Lights
As far back as 373 BC people have claimed to see weird lights in the sky during earthquakes, and sometimes for minutes before the shaking actually starts, as seen in this video: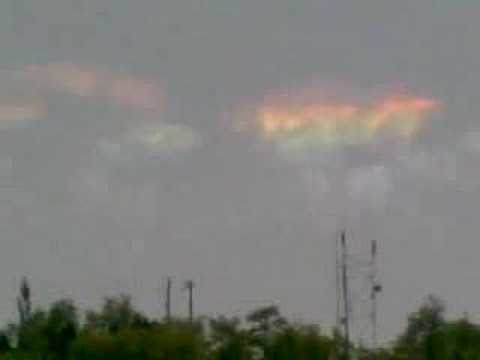 Bizarre colorful (luminous/glowing) cloud phenomenon in the sky was observed about 30 mins before the May 12, 2008 Sichuan earthquake took place. This was recorded in Tianshui, Gansu province ~450km northeast of epicenter, by someone using a cell phone.
source
They seem to occur in China quite often, probably because the government only permits people to see a rainbow if they are moments from cataclysmic natural destruction. The lights were also witnessed during the recent earthquakes in Peru.
There are a number of theories surrounding earthquake lights, but unfortunately none of them are very conclusive.
One suggests that the imminent earthquake releases gases that are electrically charged in the air, while another says that the tectonic stress fucks with the magnetic field of the earth and creates an aurora.
Add a comment above
More polls by ☥☽✪☾DAW ☽✪☾