Gunner
Rude, crude, and socially unacceptable
likes & interests
About Me
I am a retired Marine, having served from 1976 to 1997.
Sunday, October 23, 1983, Beirut, Lebanon - a Hezbollah suicide bomber killed 1st Battalion, 8th Marines and our Navy Corpsmen. I'll always remember my Marines - Lance Corporals Cole, Debendetto, Hue, and Kingsley.
My Political Views
I am a center-right social moderate
Right: 2.76, Authoritarian: 0.14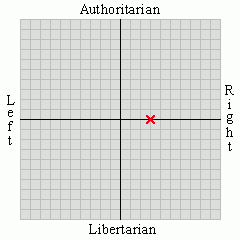 Political Spectrum Quiz
My Foreign Policy Views
Score: 5.89

Political Spectrum Quiz
My Culture War Stance
Score: 3.34

Political Spectrum Quiz
I'd like to meet
President George W. Bush, Israel's Prime Minister Benjamin Netanyahu, Gary Sinese (Actor and Spokesman for the Wounded Warrior Project), and my fellow Marines.
Activities
Annoying the hell out of angry, spiteful, delusional liberals and those who snipe away at America and/or her Veterans. I answered a simple, innocent question about eating and was attacked and criticized by some fools (as described above). Eating for pete's sake! Well guess what nitwits...bring it on! Oorah!
Interests
Animals, writing, writing poetry, music, writing songs, tattoos, politics, news, and much more. I've been told that I am an animal whisperer. I enjoy meeting people and engaging in conversation and debate. I enjoy playing the bass guitar and drums.
Favorite TV Shows
Law and Order, Criminal Minds, Hardcore Pawn, Fox News, The Office, Frasier....many more
Favorite Movies
Apocolypse Now, Full Metal Jacket, Grand Canyon, 1941, National Lampoon's Christmas, Ghostbusters....many more
Favorite Books
Mystery, Suspense, History, Military History, Biographies....
Favorite Quotes
"Cry havoc and let slip the dogs of war." Julius Caesar

"War is the remedy that our enemies have chosen, and I say let us give them all they want." William Techumseh Sherman

"A ship in harbor is safe, but that's not why the ship is built." Sarah Palin

"It is not the critic who counts: not the man who points out how the strong man stumbles or where the doer of deeds could have done better. The credit belongs to the man who is actually in the arena, whose face is marred by dust and sweat and blood, who strives valiantly, who errs and comes up short again and again, because there is no effort without error or shortcoming, but who knows the great enthusiasms, the great devotions, who spends himself for a worthy cause; who, at the best, knows, in the end, the triumph of high achievement, and who, at the worst, if he fails, at least he fails while daring greatly, so that his place shall never be with those cold and timid souls who knew neither victory nor defeat." Theodore Roosevelt
Favorite Heroes
My Father, my sports coaches, my boxing manager and trainers, and all Warriors, past and present.
Areas of Interest
Gunner's activity, per category
info
Gunner

Male

Battle Creek, MI, US

2012/04/18 11:49:37

2012/07/20 21:02:01

55

Single

Straight

Scorpio

Friendship

College Graduate

Retired

Military

No

Christian

Proud Parent

Conservative

White/Caucasian

Athletic

5 feet 10 inches
photos & videos