Thank YOU, bleeding hearts! I hope you're ready for a Jihad on your children now!
Muslim Terrorist Attack Plan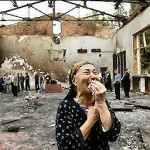 Most shocking is that floor plans for half a dozen schools in
Virginia, Texas and New Jersey have been recovered from terrorist hands
in Iraq. The Muslims are planning to attack American schools.
- Preparation for attacks on American Schools are well underway in Islamic terrorist camps

- The terrorists have warned us that they will attack our schools

- They have already begun testing school-related targets in the U.S.

- For terrorists, "a successful attack is one we are not ready for." Lt. Col. Dave Grossman
Why Schools?
Our Values

- The most sacred thing to us are our children

- Killing hundreds of children will boost the terrorist's morale and lower ours, leaving us stunned

Our Lack of Preparation

- Police deal with crime, but school attacks are war

- Police are the first line of defense. Are we ready?

- If a large scale school attack occurs, parents will stay home. The economy will be devastated.
READ MORE!
http://conservativepapers.com/news/2012/09/02/muslim-terroris...
AND WHO'S HOSTING THEIR TRAINING? American Bleeding Hearts!