Should this pastor keep preaching as a Convicted Sex Offender??!?! Whould you attend?
WOULD YOU ATTEND THIS MAN'S LESSONS ON MORAL AND UPRIGHT CHRISTIAN BEHAVIOR?
Is this what the church (Black church) has become? Is this is worst than Eddie Long buying teen boys off for sex!!!!
(ThyBlackMan.com) One of the top stories at my station this morning was the story of a Pastor, recently released from prison on sexual assault charges of two young girls, returning to the pulpit.
The man is a registered sex offender. Children who attend his services
are sent to another building as the pastor can not have any contact with
them. Even with the precautions in place the story disgusted me. After
watching and reading through it the first time, and then over and over
again all morning, I just started to wonder why were people at the
pastor's new church taking up for him. They were belligerent that the
reporter at my station was even doing the story. The nerve of us for
wondering why a registered sex offender is allowed to preach from the
good book.
I know. I know. I know. Let he without sin cast the first stone. I'm
not trying to judge the pastor I'm just trying to understand why in a
society where Jerry Sandusky's name will be marred for the rest of his
life how is it a small time Jacksonville, Florida pastor is able to
escape his local public's wrath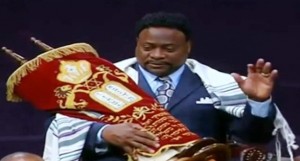 unscathed.
Even on a larger scale how is it preacher's and pastors in the public
eye — as pillars of their community — seem to never get dirty, never get
messy, even though from the knee down their covered in the doo.
Just last week Georgia's New Birth Missionary Baptist Church pastor Eddie Long
was crowned a King. The man who settled out of court with four men who
said they were assaulted by their spiritual father was wrapped in a
tallis, lifted on high in his throne like chair and exalted as if he
were Christ the Redeemer himself. I know Jesus got mad. He had a fit in
the church. But never did he ever anywhere in the Bible come into
questionable contact with any of his flock; young or old male or female (Davinci Code theorists let me have this.)
Someone please explain the above blasphemy to me.
Michael Jackson went to his grave with many believing in their heart
of hearts the King of Pop was a boy booty toucher, yet a pastor whose
influence is almost as pervasive as the man in mirror can settle out of
court and be crowned King by another religious group. Is that what makes
religious royalty these days: catching a case? Excuse me while I lose
grip on my New King James.
And the local pastor in my area and Bishop Eddie Long are not alone in their exaltation and being fiercely defended.
The Catholic Church is still reeling from the sex abuse scandal that
began being revealed in the 1980?s. While Pope John Paul II did little
to address the scandal before his death in 2005, Pope Benedict XVI has
been on an apology tour. But the amends stop at an apology. Instead the
Catholic Church to which I was baptised and raised in has busied itself
with the new translation of mass and the constant mysteries revealed or
not in the Bible, Dan Brown Books, and the Vatican's own hidden coves.
Yet church scandals go beyond sex abuse and sex assault.
Prophetess Juanita Bynum and her ex-husband preacher Thomas W. Weeks
III got into a huge argument in 2007 during their divorce. Bynum was
beat up. No charges were filed. Weeks re-married and Bynum went about
doing God's work. The domestic dispute was a hot topic for a few days
before being dismissed as old God gossip. However, Chris Brown and
Rihanna can't even tweet each other without someone somewhere rolling
their neck and popping their gun to the tune of " She better not get
back with him. She stupid if she does." Where was all this
self-righteous contempt toward the preacher who beat the prophetess?
No really. Where was it?
Going further still, Tammy Faye is more remembered for her false
eyelashes and painful death than she is for her two marriages to a
televangelist and his fixer. Faye's first marriage ended after Jim
Bakker was sent to prison after allegations his church and company paid
off a woman accusing Bakker of sexual assault. Tammy Faye's second
marriage ended after investigations into the fraud case stemming from
Faye's first marriage showed her second husband Roe Messner to be deeply
involved in the fraudulent finances of Tammy Faye and Jim Bakker's once
gold mine of a Christian brand.
These scandals are just a few that have rocked mega churches and
small churches in our country and around the world. While people get
over the deeds of the people of the cloth, Wall Street financiers like
Bernie Madoff are serving more than life sentences for cheating
Americans out of a white picket dream. (word to Solange)
If Madoff, Sandusky and M.J. to an extent deserved to be demonized to
the ninth layer center of hell than so do priests, preachers and
pastors who abuse their power.
Why convict one in both the court of public opinion and sometimes in court and not the other? Why allow "God's messengers"
off the hook but continue to lynch those not called to the cloth? Do
priests, preachers and pastors get a pass when waiting in line to ascend
into heaven and sit at the right hand of the father? Are their sins
weighed with lesser value than those of us common folks who just happen
to live and work and sometimes make bad decisions? Is theirs a salvation
we the regular people of God's kingdom can't come to know because we
didn't study hard enough to deliver the Blood.
Am I missing something in my walk with Christ? Am I not privy to the
particular treatment of those that deliver the word in the eyes of the
King of Jews?
What gives?
How is it man made in His image can't see the crimson stain on the flesh of the anointed?
Or is the free pass, the pass go card, the quick forgiveness of all
wrongdoings and eager mercy for future transgressions just another
symbol of why it is better to hold fast to the trinity than it is to the
pomp and circumstance of dogma?
Read More: http://www.huffingtonpost.com/2012/02/21/darrell-g...
Add a comment above