night time rolplay
Canvas
rulz
1. you can have as many chacters you want
2. be nice
werewolfs:
Shadow Akira Jones
i am 18 and new to the world of the wolf in my human form i am lonely and i have no family at all..in my wolf form i have no friends at all and i want to feel like i belong.
human form
wolf form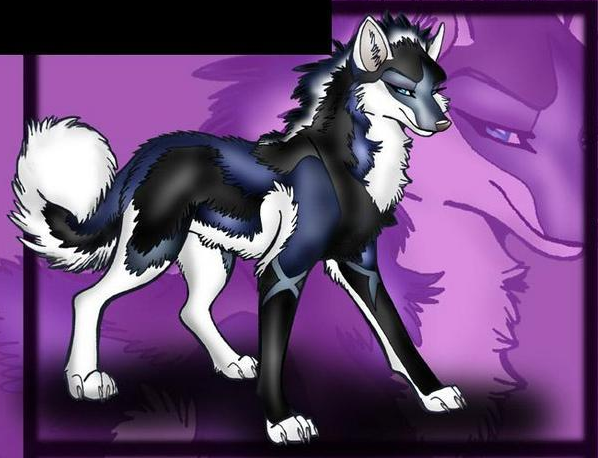 loner the name is T.J.
the T.J. means Tina Jones people call me T.J. cause i hate the name "Tina" and my favorite things are tennis and jaguars.
and my family was killed by a vampire.
me: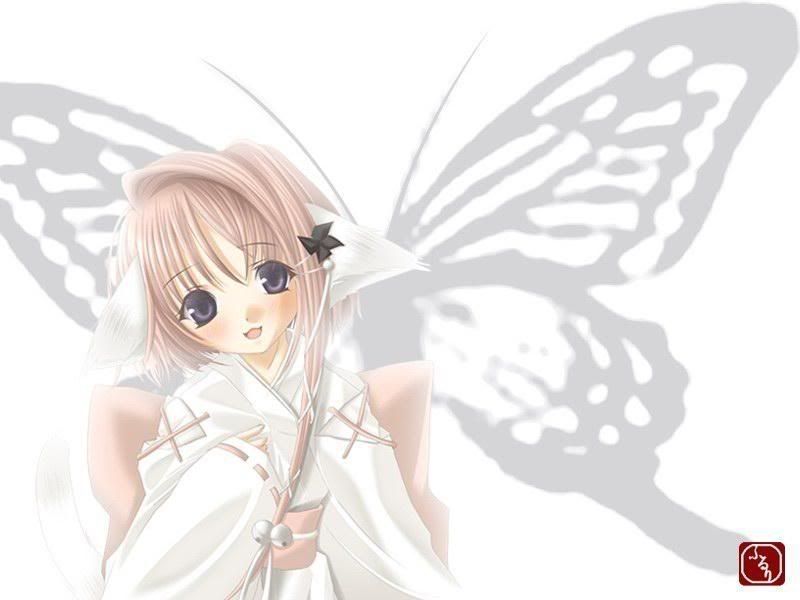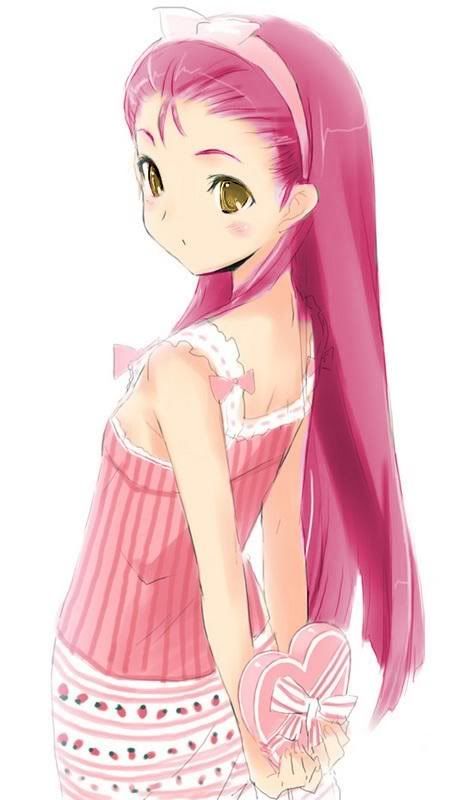 wolf me:
Rogue
Pleased to meet you all, I'm Rogue. Well actually, my full name is Rose Johnson, but my friends call me Rogue. I was an Alpha female in training until I ran away from my pack. All because of a boy, a vampire who I thought would be my mate for life, but um....let's just say things didn't turn out the way they planned. Anyway, I live in forest of Northern Pennsylvania. My pack and the boy abandoned me so now I really am a rogue. I'm hoping I can find a few new people or the right guy to start over with. Btw I'm 18 and a werewolf, born not bitten.
me in human form
me as a wolf
h4OaOyUS6M/userWildAnimeWitch...http://i100.photobucket.com/a...
Stefan and Amellie
Stefan in a full bread werewolf and Amellie is his hybrid companion.
Stefan in 17 and Amellie is 16.
Stefan: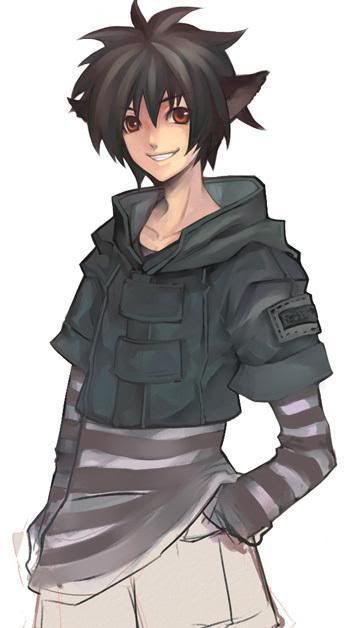 Amellie:
Then Together:
Lynn Lakota
Lynn was born a werewolf with a vampire father. She doesnt hate werewolfs like other vampires. Which makes her very hated in the Werewolf community. But she stays ever nice and helpful to all. she is smart and has no friends, relatives or a boyfriend. She has been alone in the world since her fathers death when she was 10. She is 15.
Human me
werewolf me
Rose
I am a 17 year old werewolf trying to find love and has had her heart broken many times
Human form:
Wolf form:
Kumori
A werewolf who's 14, he's lost him memory and is haunted by his past. He has a sword he always carries with him. He can control shadows. \
Jacob Black
"Hi, i am Jacob(also known as Jake) and i am 17 years old"
HUMAN FORM: (before)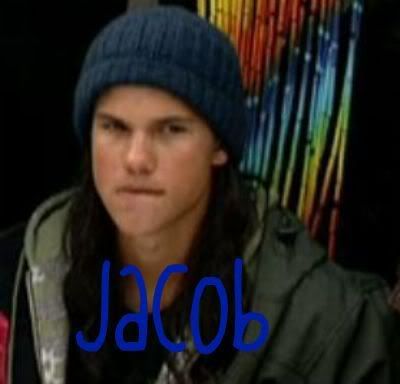 (after)
WOLF FORM:
Emily
Emily is 16 years old. She hate vampire. She is a friendly girl. She love to hang out, make new friends,and out going.
human form:
wolf form:
Jane
Jane is a 19 year old werewolf that has been a wolf her whole life. she killed her parents when she was only 5 years old. she's lived on her own in her wolf form for almost her whole lie. when she killed her parents she was cursed to never find a new family for as long as she lives
Human form: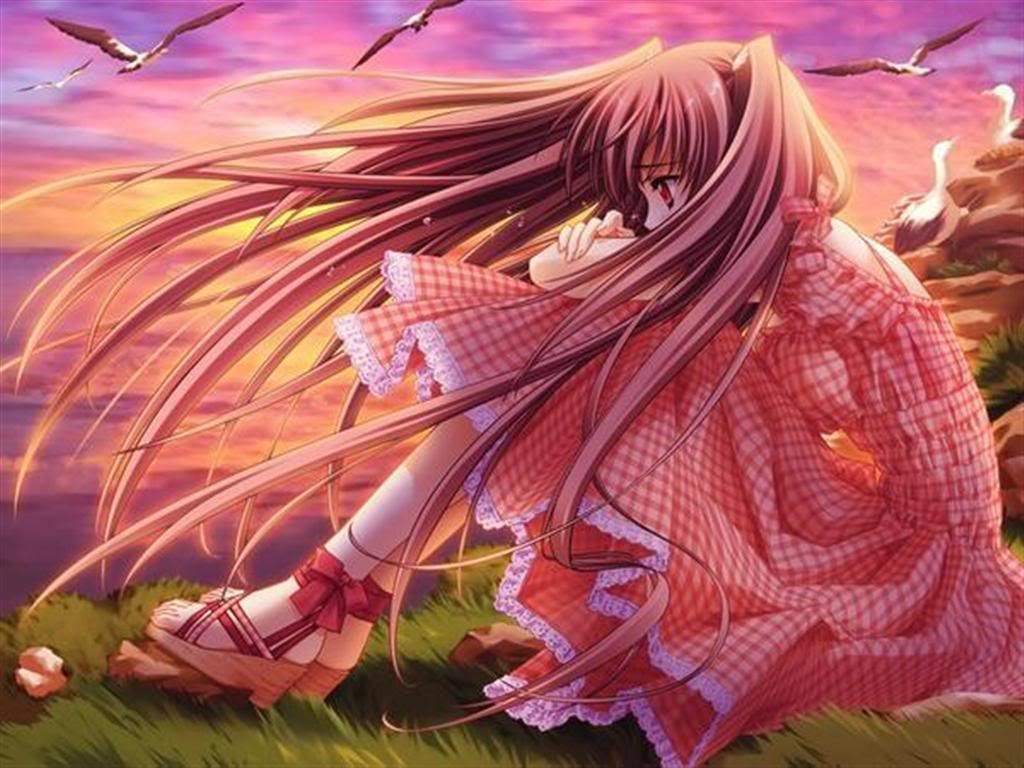 morgan winters
hi im morgan im 13 years old im a bit of an outcast from the werewolf coven i dont mind vampires ive grown up a werewolf but my auntie teaches me magic she gave me a small spell book just in case of an emergency
human form:
wolf form:
the book:
magic form:
vamJARED(T-J)
Jared Black
age:16
Name:Jared Black
Nickname:T-J
Speices:Werewolf
Hobbies:fighing writing songs and singing
Intrests:motorbikes and music(hip hop)
Favorite Color:black and green
Eye Color: Black
Hair Color: Black
Family: Jacob Black (his older brother)
Descprition:i am a werewolf for 8 months..and i cannot control well my powers yet..i am very nervous and fight a lot...my brother Jacob afraid of that and take care of me...when i was 8 and he was 10 some vampires killed our parents and our older brother..i wanna find the vampires who killed them but Jake don't let me...i am very flirting and think that "woman" is the best creature even she is vampire human werewolf or something else..i never felt in love before...i am little bit afraid of love but still wanna find the right girl...
Jeremy
Name:Jeremy .T. Andrews
NickName:J-T,Jay
Age:17
Species:werewolf
Personality:Sweet,funny,sarca...
Hobbies:Skateboard,Surf
eye color:Blue
hair color:Blond
Favorite colors:purple,Black and Red
Jeremy is Marcos little brother and the only family he has left. unlike his brother Jeremy likes vampires. He loves to pick fights with anyone and likes to joke around he is verry fast and strong he can control fire and air but sometimes he cant control his powers. he doesnt like to flirt with girls much he is very laid back and calm most of the time
Human form: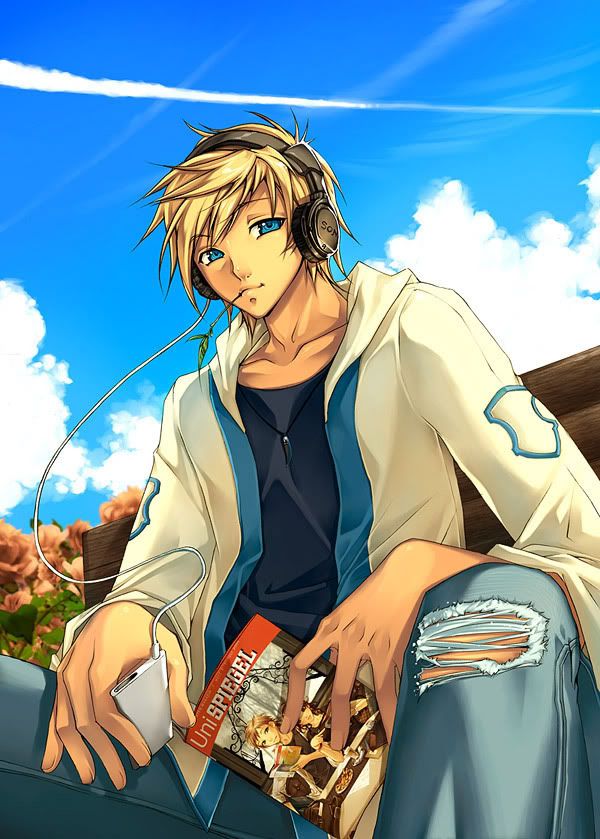 Wolf form:
Marco
Name:Marco Andrews
Age:18
Marco has a tendency to be really rude and arrogant he doesnt talk to people much but when he does talk he is sorta harsh. he had a very sad life especialy after his sisters exboyfriend killed his parents and his sister because of that he hates vampires more than anything
human form:
Wolf form:
http://farm5.static.flickr.com/4053/4469082514_d1a01ea3d5.jpg...
Akira
My name is Akira. I a 17 year old werewolf. I live to have fun and be outgoing. But at the same time I am kind, caring, courageous, and strong. I put my friends before myself and would protect them at all costs.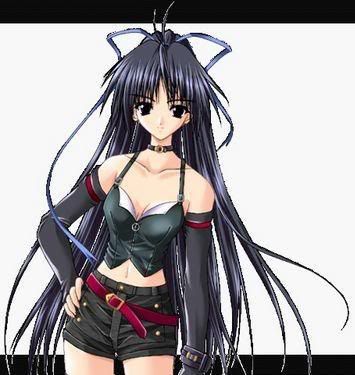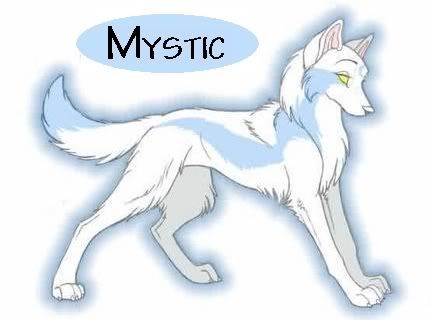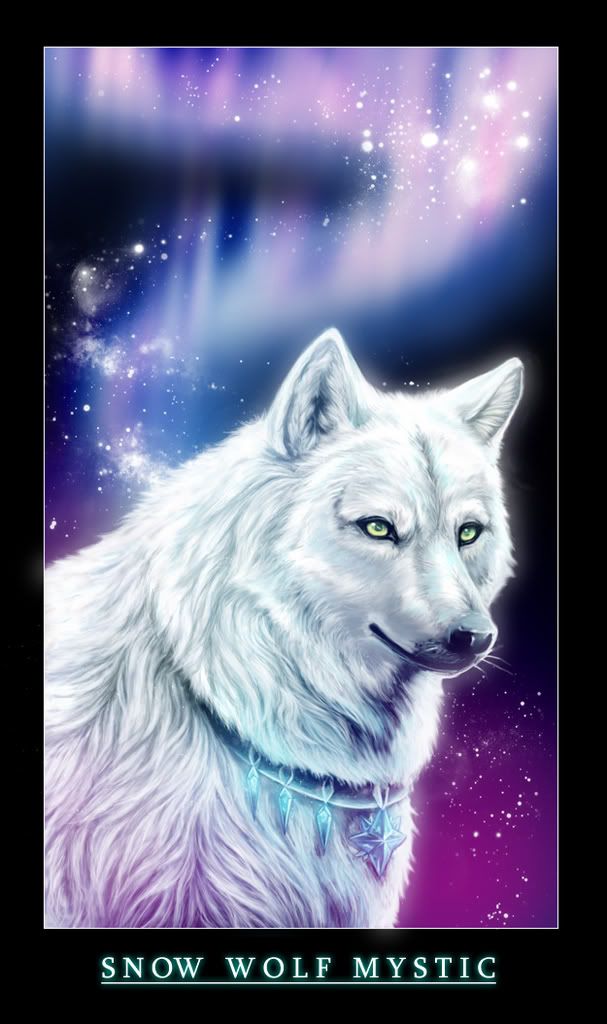 vampiers:
kaylie dark and jacob dark
kaylie dark
she looks like a avrege 16 year old to human but is realy 300years old. she was turned by jackob dark who is her solemate. she has dark hair and dark eyes. she was born in venice italy, she hates werewolfs because they killed her family.
jacob dark
he looks like a avrade 17 year old but is realy 415 years old. he turned kaylie dark 300 years ago. he has dark hair a silver eyes.
she is his solemate. he was born in venice italy. he hate werewolf becaue they killed his family. he lived on his own since he was changed until he changed kaylie dark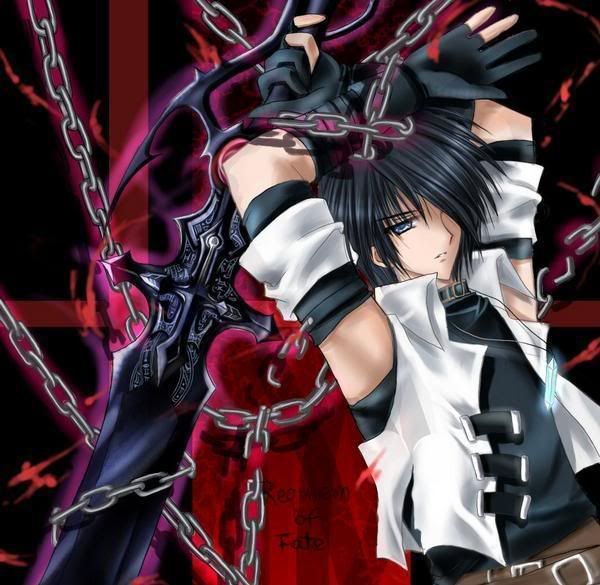 Rikoh
im a 23 humen year old male i have no clue how old i really am but ive been around for a LONG time.. i am a mix breed which makes me friend nor foe.. i have yet to come across a pic that shows me in my true form but i hide in the woods in Northern Indiana and have been wondering for a long time. my whole family was killed by vamps and wolf due to my mom bein a vamp and u can guess me dad was a wolf. i am now hunted by both sides. hopin to find a clan or pack thats willing to accept me for being me not for what i am, also due to me being a mix breed i am a day walker.
Lilly Parker
Race:Vampire age:human 15 vamp 209
She is Caleb Parker's littler sister turned just before her brother. She spends most of her time hanging out with Demons and vampires. But she hates Werewolfs more that any other vampire because vampires killed everyone who lived in here village. She is smart, funny, and very kind hearted, and a very good friend.
human me
Vamp me
Foxx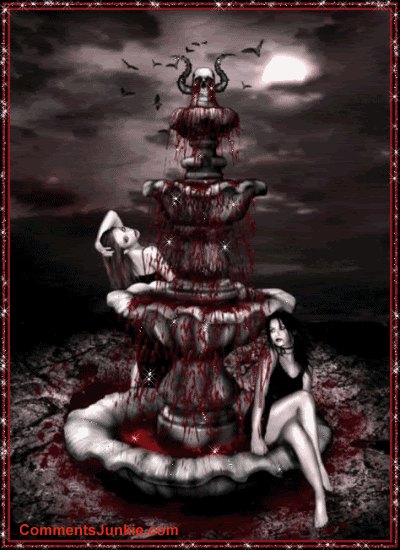 she's waited for love her whole life. she likes spending time in the cemetery behind the castle, sitting by a water fountain of blood, and loves to go human hunting during the night. on cloudy days when there is no sun she will use an old umbrella that she had when she was human to cover up her face from any sun that might pop out when she goes and lures humans back to her castle
Bella Swan Cullen
My name is Isabella ( Also known by Bella) I am happily married to Edward Mason Cullen and have 1 daughter named Nessie. I used to be human then changed to a vampire.
Josh and Cloe
Joshis a 286 year old vampire that looks like a normal 17 year old guy. he lived his life searching for true love. when he found Cloe close to death he changed her into a vampire. he doesn't have a problem with werewolves butdoes have a problem with demons after one attacked Cloe. He is very protective of Cloe.
Cloe is a 186 year old that looks like a normal 17 year old girl. she was changed into a vampire by Josh just 100 years after he became a vampire. Cloe was attacked by a demon just before she became a vampire
Layla Leo
Hi I am layla, I am a vampire, i was turned by my best friend wesley on my 15th birthday in 1896. We travel around the world together.
can control minds and the actions of others around me.
Wesley
This is our new pet wolf Jasper, He is like family to us
Emelia
Emelia is 15(178) years old.She lives in a deserted forest.
Her parents were killed by a human when she was 1.
She goes crazy over blood.
This is her:
Sita and Ray
Name: Sita
Species: Vampire
Age: 20 (+4000)
I was born before the written word, i was raised by my father in a small village in what is now known as India. I had one best friend who was 7 years older then me but we didnt care. She died with child when i was in my early teens but a preacher brought her back to defeat the disease that was killing people in our village, but what he brought back was a hideous being. When she finally stopped moving the baby started moving, i knew that the baby should die since it was a demon but everyone was against be for being a girl, so instead they made me name it, Yakashi was his name. The baby grew faster then anything i've ever seen, when he was 7 he was full grown and looked 20. People started going missing soon after his 10th birthday and then my father and him did. We found my father a couple of days later we found him dead and i knew it was Yakashi. When i was 19 i met the love of my life his name was Rama, soon after we were married and then we had our first child Lalita. Yakashi came a few weeks after her birth and made me leave with him if i wanted to keep my husband and baby alive so i did. He turned me into what he was and i have regretted it since that day. I stayed with him for a couple 100 years and then we went our seperate ways. I have roamed this earth all alone and thought i would for the rest of my days. Then Ray came into my life and i will never take back the choices that i make from now on.
Slate and Miranda.
Miranda
Age:5
Miranda has been a orphan her whole life and has had to live on the streets. She doesn't trust people and is very shy.
Slate
Age:15
Slate has always been a social person. He was turned into a vampire less then a year ago and hasn't killed anyone yet. He found Miranda dying from hunger one day in a old box and decided to take care of her. He acts as a guardian for Miranda and will do anything to protect her. He plans on, when Miranda grows up, to turn her into a vampire like himself.
Miranda: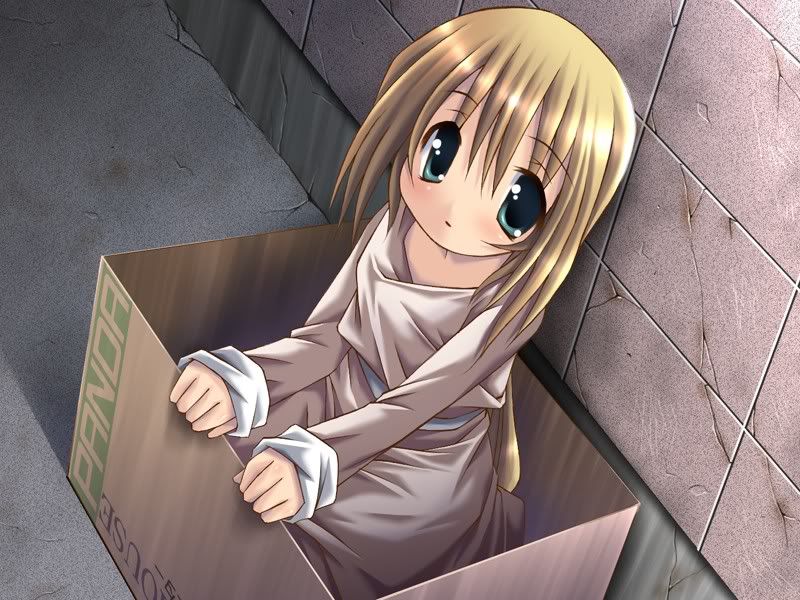 Slate:
Kastrelle
Kastrelle is a 16 year old vampire who just wants to see the sun one more time. Her brother is sick and Kastrelle takes care of him whenever she can. Kastrelle loves to walk in the forest at night and loves to meet new people.
But Kastrelle soon discovers she to has an illness to.
Human Form:
Vampire from:
Name: Ray
Species: Vampire
Age: 19
My story is short i grew up in Mayfield with my father. I had a quiet simple life with my father and my girlfriend Patty. Until Sita came into my life. Sita turned me into a vampire to save my life and now i am with the one person that i truly love. I know she has done horrible things, like killing my father, but i truly forgive her and i couldnt see being without her. I will follow her to the end of the world and never turn back.
Sita:
Ray:
Jess
Hello, my name is Jess and i am a vampire who can't control her thirst. One spot of blood and i go crazy! I am 14 and I am a lonely depressed crazy girl.
me in normal human form:
me in normal vampire mood: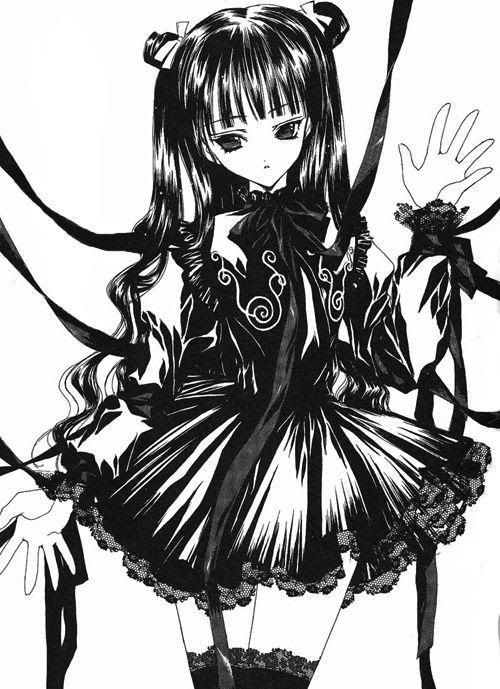 me in crazy bloodthirsty vampire mood:
David
is 16 years old to human but really he is 259 years old. he is freindly. He love to get into fights, and hang out with friends.
He hate werewolf.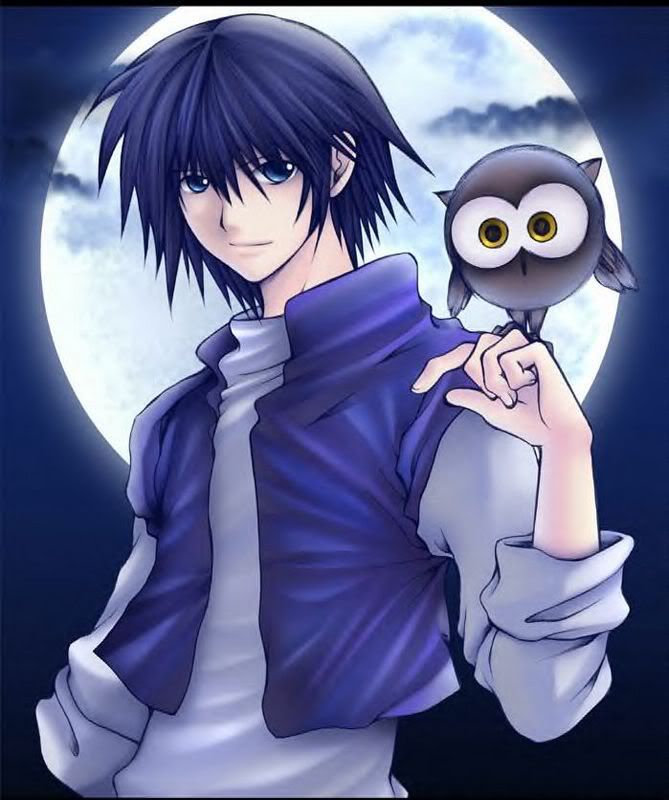 Margret
Margret is ur typical 16 ( 300) year old girl. She hangs. She hunts. Buts she has one flaw. She gets mad nervous and scared easily
Caleb Parker
He is a rough tough vamp that wont take no for an answer. He and Lynn Massani Have been great friends since childhood. But he never thought he would fall in love with her and spill his biggest secret to her. He also never expected her secret. Now the two hang out alot. Caleb has always been the popular cute guy in school. But never much liked the attention. With his quick temper and sharp mind. When ppl get to know him they dont really like the 211 year old. Only Lynn has seen through it all.
Me as human
me as vamp
Snow.
Age:Unknown.
Snow was turned when she was 15, but she doesn't remember because she lost all memory of when she was a human. She is very childlike and freaks out at the sight of blood. Her powers are that she can control the weather and animals.
Raven
She is 153 years old, she looks 15 to the human eye. She loves everyone and evrything but her master.
Her master killed her family in front of her including her 18 year old brother who was a werewolf.
She tends to stare out in the sky wondering who she was in her human life and what life whould be like if she was human
Sapphire.
Age: Looks 14, but her real age is unknown.
Sapphire was a kidnapped slave to a old coven of vampires, who repeatedly would torture her till she begged for death. She was (and still is) assigned to protect all of the borders. She is forever chained to her post because the coven feared that she may become a powerful leader. She is always welcoming to visitors since people rarely see her. Her powers are that she can twist the minds of people to make them insane and she can see the future.
Renesmee
I am half vampire and half human. My mother is Bella and my father is Edward. I am 17 years old. My love is Jacob Black, but my father doesn't like him much. Or I should say at all.
Yukitaka
A vampire with the talent to be peaceful and try to control her anger
Age: 15
Mood: innocent
Parents: Renji And Bethal Ishigawa
Gea
Gea has been a vampire for all she can remeber
Carlise Cullen
My name Is Carlise.............. I have adopted Jasper Alice Edward Rosalie Emmett Esme and Bella.
Edward Cullen
im Edward Cullen...i am 17 years old-human age and 104 years old-vampire age...im married Bella and have a daughter named Nessie..
human
vampire
Solstice and Demitri
Name: Solstice Mari
Age: she looks 15 but her actual age is 1,285
Hair: Black
Eyes: Blue
Description: Solstice is a very calm vampire. She spends a lot of her time trying to find the Lost City of Moran to expose the secret of the most ancient vampires. Her best friend, and vampire mate is Demitri.
Solstice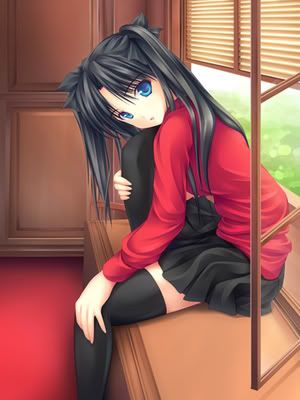 Name: Demitri Farsi
Age: He is really 1,285 but looks 15.
Hair: Black
Eyes: Change colors (they are usually blue, gray, or red)
Description: Demitri is not quite as calm as his mate, Solstice. He tends to become very bloodthirsty when he is around too many humans. He is tall and lean and he knows how to fight. (He usually wins.) You would not want to be on his bad side. He is with Solstice a lot, helping her search for the Lost City of Moran.
Demitri
Both
Gavin
Name:Gavin Del Rossi
Age:unknown
Gavin is a jerk and doesnt care what anyone says or thinks of him he loves to kill werewolves and thinks its a fun game.to the human eye he looks like hes 19. he has massive strength and has the ability to read and control minds he is after one werewolf in particular Marco he thinks of Marco as a brother so he has a soft spot for him but that wont stop him from killing him
Annie
Annie is 6. She is a orphan and lives in a box and a little cottage ever since she was 3.
enthidora
i am a vam with class and i am a nice person i have power liks fire i can change my outfit in to flams and i love to meet guys and hang out with my friends i have alot of powers
Yuriko Hanaki
never get me mad i can kill in a blink of an eye.
i have always hated humans they are the people who killed my beloved sister and my only love and soulmate. I have cursed humans till the day i die.
and i will never die i for have found my immortalty.
i love to getin fights and i love to get in trouble.
and i will never love again.
My hair color usally changes depending on my mood.
Happy:
Sad: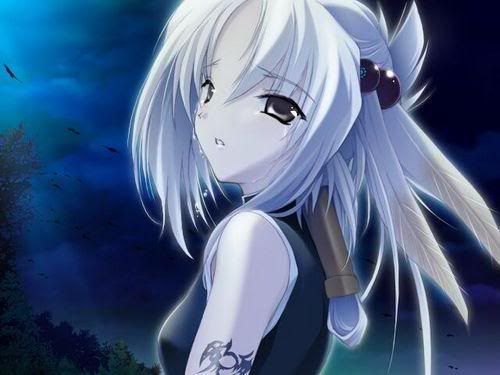 Mad:
Scared:
Serious:
Funny: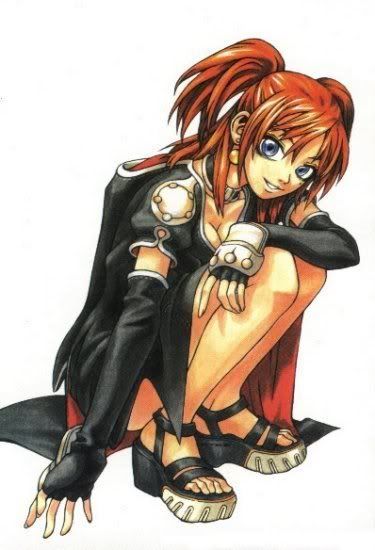 Picky:http://i105.photobucket.com/albums/m204/lucky13psycho/A...
ETC.
vampire form: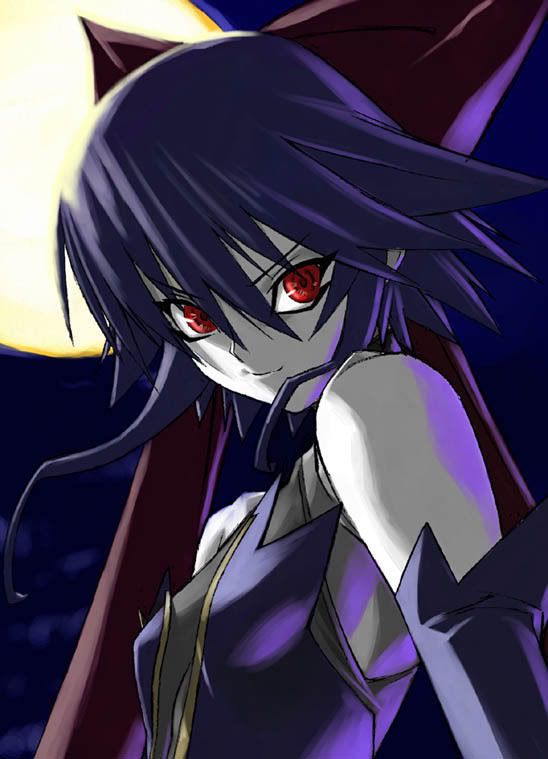 i can only have 2 colors when im a vmpire and its white and blue. it cant change any other color.
Human Form: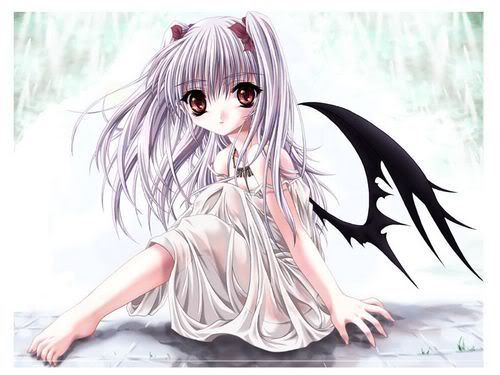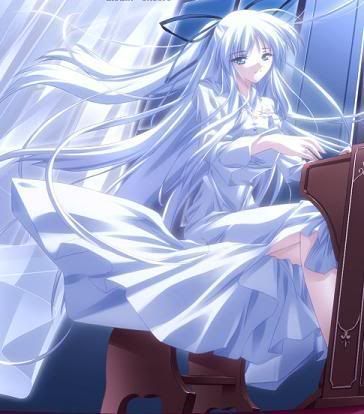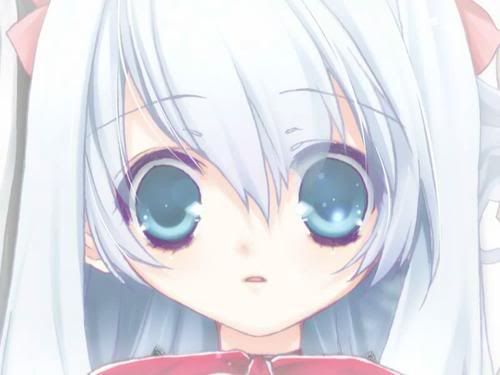 My Regular Hair Color Is White.
Elemental Rose
Vampire:Looks 14.
Shes not,107 years.She goes crazy for blood and is looking for the right person who understands here.
Protective,and cute.
Human mode:
Vampire:
Sarah
Hi. Well, I'm 500 years old, & a goth. Yes, a gothic vampire. If you have a problem with that, get over it. I just want to make friends. Anyway, I look 16 & I am always running from werewolves. Why? Because I used to date one when I was human, & when I changed, he got pissed, dumped, & sent his pack after me!!! Ya, I know. I have a bad choice in men. Oh well.
Me
Madison
My name is Madison. I was turned into a vampire when I was only 14. I don't remember much about my human life. I so remember that my parents were murdered when I was only 4 years old. I don't remember who killed them. But have been on my own ever since then. I am usually very shy. I am very kind and caring. Unless you get me mad. Then I can be very agressive. I have several abilities. Including the abilities to read minds, see the future, control the weather and the elements, sense manipulate emotions, control bonds, and so much more. I can be a great friend to have. But believe me, you don't want to have me as an enemy.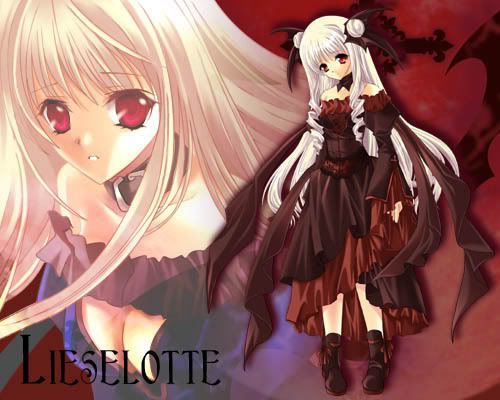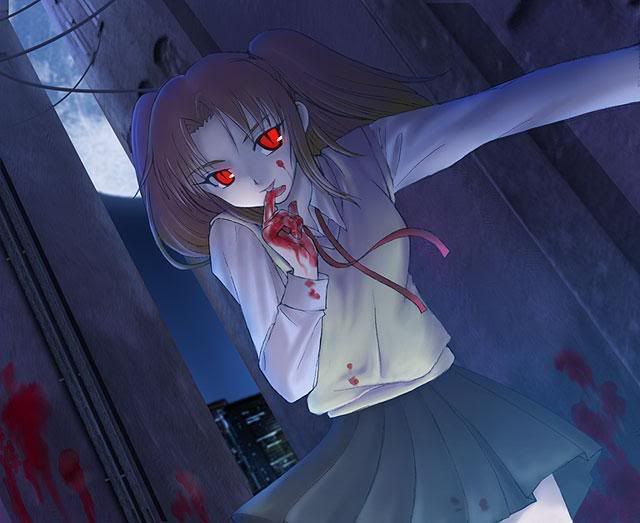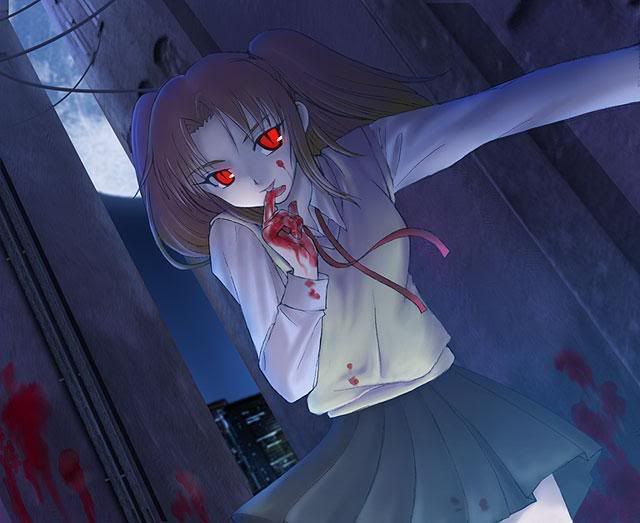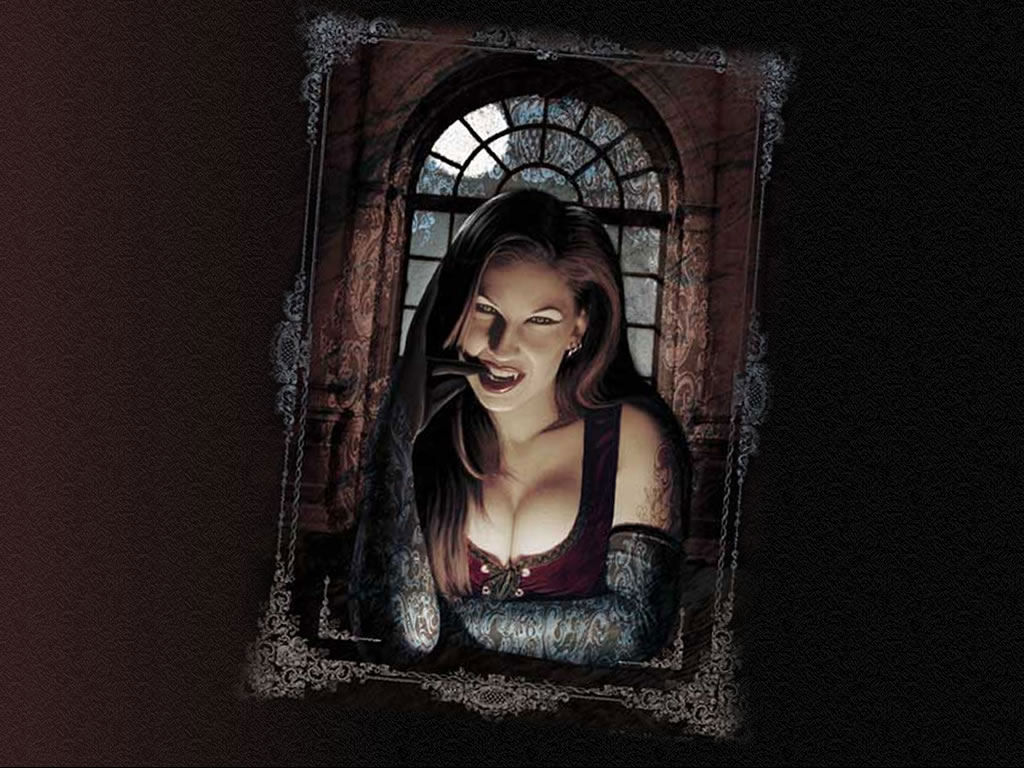 Emira
She was named for her green eyes. She recently woke up by a lake, with amnesia.
She still thirsted for blood, and her instincts took over. She is naive and shelters herself from everything but violence, until recently. She has become rather outgoing now. It was 50 years ago that she woke up with no memory. She looks 17.
humans:
jannel
she is 18 years old. she has dark hair with dark eyes. she lived on her own since she was 16 because her parent and only brother were killed by werewolfs. she like to have fun and meet new people. she is a nice girl but can be mean.
Alanna
Alanna is a 19 year old human that loves Mythical Creatures. She goes by ali alot of times. She was once caught in the middle of a battle between a vampire and a demon
jeffry
he is 17 and has dark hair and eyes.he has a dog named jack.
she lives alone and like to have fun.
jeffrey:
jack:
Alyssin
Alyssin is a nice girl. she loves everything and everyone. but theres a dark side of her that no one can explain. She is 15 years old and loves a good conversation.
Human side:
Dark side:
Gloria,
Age:19
Gloria is a sweet girl and is giving to many of the vampires. She gives starving vampires blood. She doesn't favor vampires, though.
She is great to be friends with, no matter what you are.
Alex, and Alice
Alex is 16 years old, and very protect of Alice because she his girlfriend. He is rude, and not friendly. He not out going. He love the get into fight.
Alex: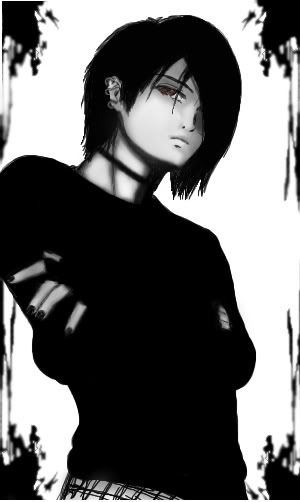 Alice is 15 years old and in love with Alex. She is out going and friendly. She love to hang out with friends, and make new friend.
Alice:
together:
Shaniel
Shaniel is 18 she laughs. She has always wanted to be a vampire but hey that cant always happen
Foxx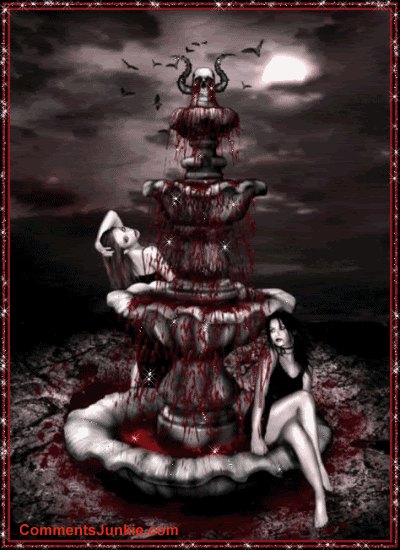 she's waited for love her whole life. she likes spending time in the cemetery behind the castle, sitting by a water fountain of blood, and loves to go human hunting during the night. on cloudy days when there is no sun she will use an old umbrella that she had when she was human to cover up her face from any sun that might pop out when she goes and lures humans back to her castle
Nurral
Age: 18
Race: human
Appearence: Nurral is very simple looking, with dark red hair that comes down to close to her butt. She always keeps it in a french braid, except for on holidays when she leaves it down. Her eyes are golden, a feature she gets from her father. In a certain light, they turn green, something she was never able to explain. She is quite skinny, weighting only 125 pounds at 5'6. She has a small birthmark under her right eye, rose like if you look closely enough.
Personality: If you could describe Nurral with one word, it would be either mistrusting or outspoken. Nurral is one where she is not afraid to her mind. She can stare you down with a glare. But, she is also sweet funny and very smart. She might kid around with you on anything, but that's just her. She's not afraid to be herself.
Powers: none. (My best friend won't let me.}
Weapons: She uses a bow and arrow much like her father, and much to his disapproval. She also has a small dagger which she keeps hidden from everyone.
Likes: horses, singing, archery, training. She also like long walks and riding her horse, Heaven.
Dislikes: She hates her father's overprotectiveness of her with a passion. She knows he loves her. But he seriously needs to lighten up.
History: Nurral was born in Ancient Greece. She is the oldest daughter of Hayley Anderson and Qualme Halda. She had a kinda shakey childhood with her father being away for most of it because of his job. Her parents tried their hardest to keep from her what her father was. It wasn't until she was eightteen, when they told her that her father was an angel of death. She got extremely mad, and left home later that day. She always goes back to visit, but she tries to stay away. When she was ten, her family moved away from their home to escape from some thugs who were after her father. Her parents were crowned king and queen of the north elvish kingdom later that month. Now on her own, she tries as hard as possible to avoid her dad on her journeys, but she somehow always runs into him. When they do, she always talks with him about home, and how things are going. Despite what it may appear, Nurral and her father are actually very close with each other. He's just alittle overprotective, that's all.
Chichi
girl who found the vampire coven , the leader over her family and the survivor of the Vampire epidemic
fairies:
macy
macy is small and hates to have people bug her. she is a dark fariy and hates werewolfs and vampiers because the both atacked her family. she has dark hair and wings. she can harm anyone who bugs her. she hates water and only comes out at night.
Ivy
Looks so innocent..but she's not..this girl is evil and mysterious.Must watch out for her!
She can control any element that has to do with water
Raine
she's in touch with her nature side and loves to have a good time. she goes out and tries to help all her vampire, wolf, demon, and demigod friends because they protect her from the harm of the big world around her. she lives in a tree on the outskirts of a forest. she loves to go out when it's raining, and jump on a raindrop and ride it down to the damp earth
Enya
Enya is a sea nymph that has fairy wings. she is ageless and is overly obsessed to make a friend, trying anything she can to have a conversation with someone.
Astra
Hi there! My name is Astra and I'm a 100 year old fairy with golden brown hair and light blue eyes to match the sky. To humans I look as if I'm 19 or 20 but don't let looks fool you. My life is in the sky and the stars are my guides. I mostly keep to myself but love it when a friendly person comes to me to chat. As may you know already my favorite time of the day is night where the moon is visible and the stars accompany it.
Jade
Jade is a friendly fairy that loves to hang around humans. her favorite human to hang around all thetime is Alanna. Jade would sneak out to go and see Alanna at nights.
Marial
Marial is a healing fairy and is 400 years old, she wishes to find love and is obsessed with rare flowers.
Human form:
Fairy form: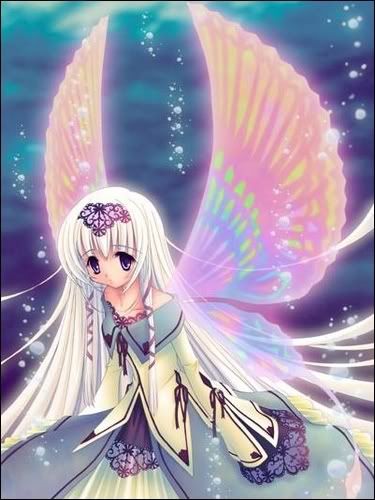 Katrina
Katrina is a nature fairy. She is very serous about the earth and will kill if she has to. She is
700 years old and knows everything about the creatures who live on earth
Megan
Hello. My name is Megan and i am a fairy of black. I love the night and i love to prowl.
me:
Nami
My name is Nami. I am a 16 year old fairy. I'm a princess. I can be a bit mischievious at times. I'm fun loving and outgoing. I'm also very caring, kind, courageous, strong, and protective. I protect my friends. All of them fairies, vampires, werewolves, demigods, etc. I'm not someone you want to mess with.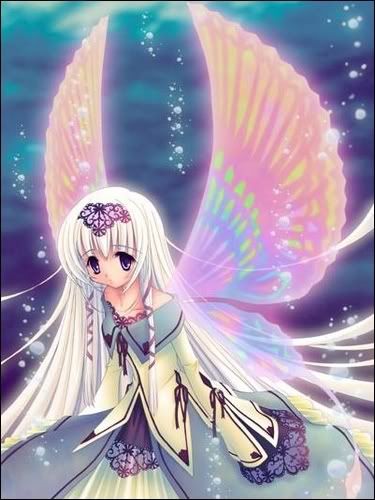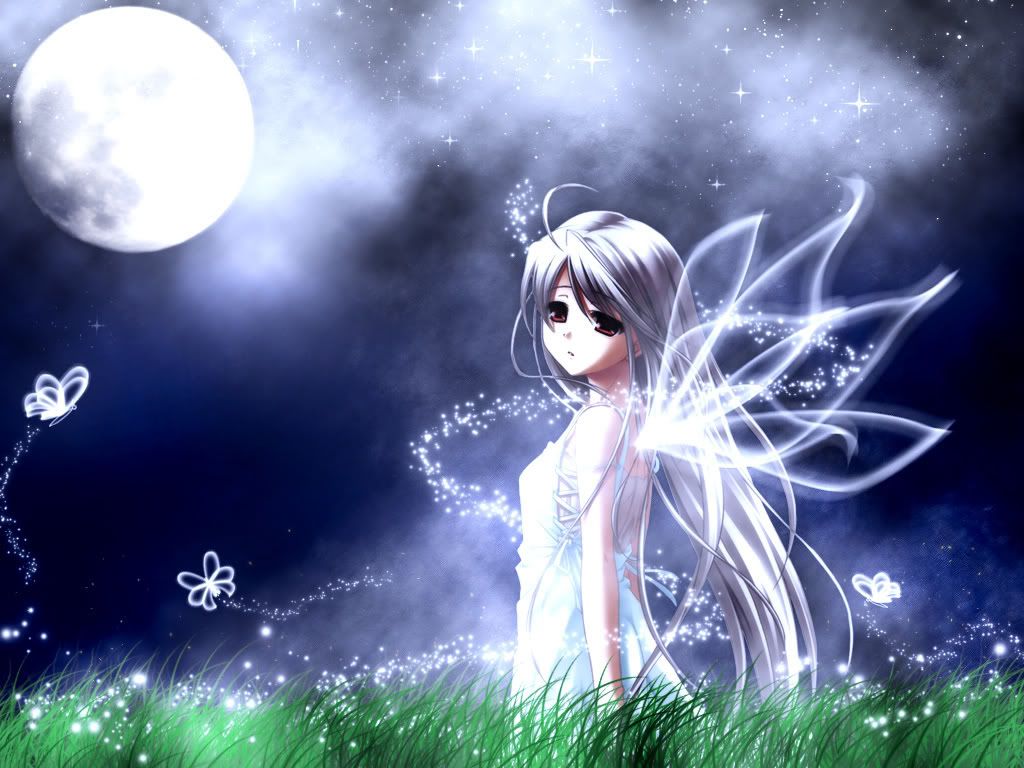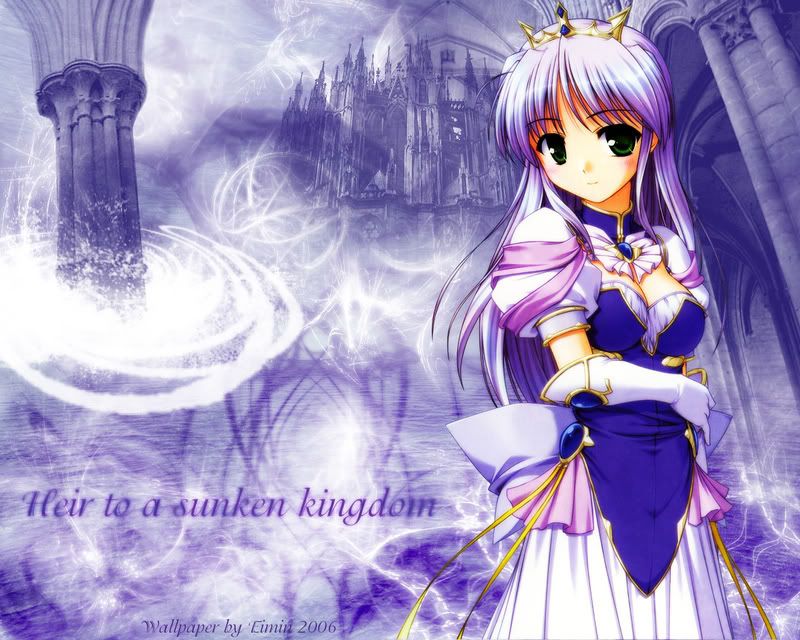 demons:
Merihim
she is a 1500 year old deamon that loves death. she is the one demon you dont want to piss of unless you want to die.
she love to tortoue people slowley and have them beg for mercey.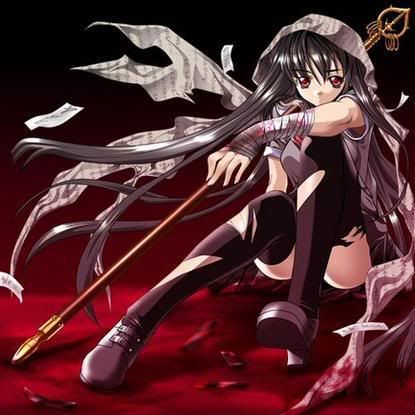 Gravity
he takes on the appearance of a human, but has these beautiful blue dragon wings. his hair turns silver in the moonlight. he loves flying around at night and causing mischief with his pet gargoyle, Dranonkin
Soul
Age:18(00)
Soul is a death demon and has only one purpose in life. To kill. She sarcastic and sly at most times, but when it comes to her job, she is becomes serous and dangerous.
Heidi
Heidi isa 1900 year old demon that has a bad temper when it comes to being around vampires and werewolves or people that piss her off. She kills everything that get in her way no matter if they are innocent or not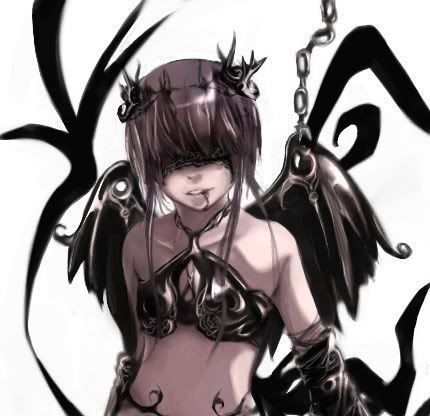 Tokio Hatake and Kakashi Hatake
Tokio Hatake
age: 17
Kakashi Hatake
age: 17
may people think of Tokio and Kakashi as demons when they are real just werecats that can not control their powers Tokio and Kakashi are lovers they have been together sicne they were 6 years old they love each other deeply they have never been apart for more than a few hours they are nice people but when they get mad you dont want to be around them
Death Joy and Love Hate
Death Joy
Bio:
He is the lover and husband of Love Hate even though their names are somewhat oppisites they have been together for
200 years.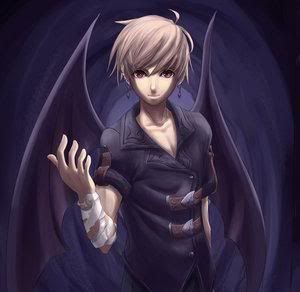 He may look like a young human but he is really 500 years old
Love Hate
Bio:
She is the lover and wife of Death Joy and her first name might be Love but she is filled with anger and an uncontroable desire to to kill but her husband Death helps her control both of their desires to kill by helping each other out when either
one of them losses their temper.
She looks young but she is 500 years old.
Both have trouble comtroling their temper and when ever they see death they get the urge to kill and lose control of them selfs.
David
David is a fox demon. He is a shy person but he will get used to them.
Fox
Mimi
her best friend is Tokio Hatake they are very alike
Lynn Massani
Lynn is you typical 16 year old cat demon. Playful and loving but a real good magic user and archer. Her fatal flaw is that she wants to get along with everyone. she is kind and trusting. small and delicate looking. She and Caleb Parker have had a thing since she found out that he was a vampire.
Me as a demon
me as human
Jamie
Jamie is your average cat demon who loves to swim. She doesn't fall for people very easily though! :)
Full cat form:
Erika
Erika is a fun and playful girl. She is a sweetheart to. She love to have fun, She is a cat demon..
Deidara and Tobi
Deidara Tokio's brother and Tobi is Deidara's lover *wink*
Neji Hyuuga And Fuyu Yamamoto
fuyu and neji are deep lovers and bicker sometimes
neji:
Fuyu:
fuyu is 16 and neji is 17.
fuyu is a fighting type while neji is to they have everything is common.
Sadie
I'm evil,although im, like adorable in my 16 year old form!I love to dance and meet new people!Some may be prey,some maybe friends!I do NOT get along with those dogs! they sicken me!
Human form:
Demon form:
Arya Blackwood
I am 16 years old and I like to talk and listen to music, just come and talk anytime you want
demigods:
suzy
suzy is 17 and grew up in olympus with her mom hera. she was sent to camp half blood to work on her acrchery. she has dark hair and eyes. she dosnt like when peple try to tell her what to do .she is usaly a nice girl but can be mean. she also has the power to read other people emotions
suzy:
carlos
he is 18 years old and the older half brother of suzy and has lived on his own since he was 15. she arived at camp-halfblood when he was 17. he like to train and is a good fighter. he can be a major badass. he has the gift to see the future
carlos:
katrina
katrina is 18 years old and grew up in the city of new york untill she was claimed by zues at the age of 15. she has bark hair and blue eyes.she cant control lighting like the rest of her sibling but she can control the weather. she is a nice person but a mean fighter. she has a puppy named cloe. she dosn't like camp that much and misses new york alot.
katrina:
kathy:
age:18
god: zues
info: she is the long lost twin of katrina. her mom gave her up when she was a baby and never new of her twin. she can control lighting unlike her sister and is very outgoing.
mella: age 16
daugter of hades
info: she has dark hair and eyes. she is a traind fighter and has lived in the underworld most of her life. her dad stole he from her mom when she was a baby a hates him for it. she has a necklace that he gave her and has a secret power. she takes care of her three headed dog cerbuz. hades try to keep her in the underworld but she escapes when ever she can. she is very jeliouse of all the other demigods that live at camp-halfblood
mella:
cerbuz:
necklace:
jake
he has dark hair and eyes and is a son of apollo. he is also 17.he has the power to make it night or day and is great with music. he is a major flirt and dosn't like camp half blood. he is also a great fighter.
Alexis
Name: Alexis
Age: 16
Hair: Black
Eyes: Green
Alexis is a demigod daughter of Poseidon. She is caring and funny and her fatal flaw is personal loyalty. She can control water.
Alexis:
Lexi
Lexi is 16 she is very funny. She is daughter of poseiden
Sara.
Age:14
Sara is the daughter of Apollo and is very musical and artistic. She is very fun-loving and isn't afraid of other people.
Lynnie
She's really funny and flirts a lot she's Aphrodite's daughter, but can fight very well
Aaron.
Age: 16
Aaron is the son of Hepeastus. He is strong and tough and isn't afraid of a fight. He likes to make trinkets in his spare time and is a fairly social person.
Nick
Name: Nick
Age: 15
Nick is a son of Hermes. He is funny, and sarcastic. He likes playing pranks, and is a good fighter. He is a flirt and can be really sweet.
Nick:
Derek
Age:17
Derek is the son of Aphrodite and doesn't care much about it. He hates being around his self centered siblings and usually does what normal demigods do, fight. He can be a flirt and doesn't usually know it.
Taylor
Taylor is a son of Hades. He has a bad temper and doesn't care about his parents. He traveled along his life sine he was 9 years old. He visited the underworld once and never went back again after getting into a fight with Hades.
Carly
Carly is the daughter of Ares the god of war. she has a bad ass temper like her dad does. she's up for anything but when it comes to wanting to see her father she'll do anything to see him another time. she uses the sythe which was gift her father gave her the first tim she saw him.
Natalie
Name: Natalie
Age: 16
Hair: Blonde
Eyes: Blue
Natalie is a daughter of Aphrodite. She is very flirtly and girly and she spends a lot of time on her looks. But unlike her siblings, she likes fighting.
Natalie:
Haley
Name: Haley
Age: 17
Haley is a daughter of Ares. She is hot-tempered and likes to pick fights. She also has her father's blessing, which makes her nearly invulnerable.
Haley: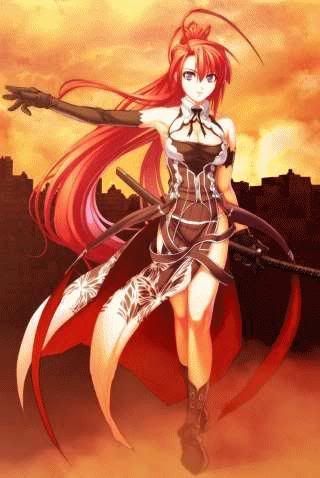 Jeremy
Name: Jeremy
Age: 17
Jeremy is a son of Aphrodite, but he doesn't think much of it. He enjoys fighting and he is a major flirt.
Jeremy:
Phoebe
Phoebe is the daughter of Zeus. She can control the thunder storms like Zeus can when ever she wants. She can fight really well.She is often visted by Zeus for a while. She has a gothic style that she wears alot of times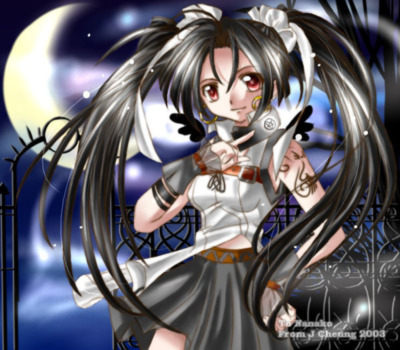 Vanessa
Name: Vanessa
Age: 18
Vanessa is a daughter of Hades. She is anti-social, and keeps grudges against many people. She hates life, and she can control the dead and shadows.
Vanessa:
Athenadora
Name: Athenadora Stargleam
Age: 16
Hair : brown and red
Eyes: changes colors.
Parent: Poseidon
Athenadora is called Star by a lot of people. She is tough and she likes to fight with the children of Ares. Has a lot of friends even though she is somewhat of an anti-social. She is usually nice if you dont make her mad.
Luna Fray and Jace Wayland
Luna is the daughter of Athena. She is very smart like her Mother, Kind hearted, soft spoken (shy). There is not many people that dont like her. Her and Jace are very close. They are in love.
Luna
Jace is the son of Zeus. He is very strong and smart. But he can be a jerk and hard headed. But thats why he has Luna. They are in love. He is smart and has always been the most popular and hottest person in the schools he goes to.
Jace
Both
Anna and Alex
Anna and Alex are twins. Their mother is Athena the godess of wisdom. Anna loves to hang out with her brother alot. Alex hangs with Anna alot. They fight for eachtoher and have the blessing from their mother for both of them so they can train an not get hurt.
Anna:
Alex:
Robby
Robby is a son of Poseidon. he can control water and speak to fish and horses. he is very friendly and outgoing. but when he gets mad he can become you worst enemy. he loves to hangout with friends and do other stuff. he is very skilled at fighting with a sword and hand to hand combat.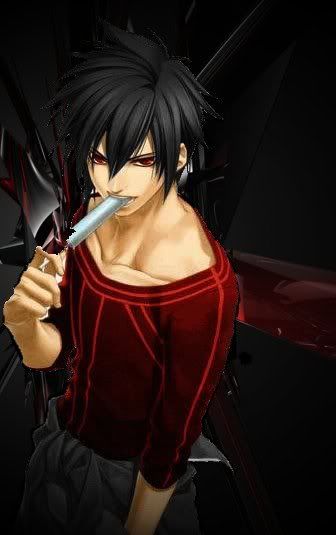 Azura
Azura is a daughter of Poseidon.
She loves sword fighting and had pure blue eyes.
She's fun to be with and easy to get along with.She has never seen her mother and most probably never will.
She has a long scar on her right arm which was caused by a minotaur when she was trying to come into camp.
Her scar itches whenever she senses something wrong.
Justin
Justin is the Son of Ares and Carly's biological brother. He's like his sister but more skilled in fighting. he has a sythe that his father gave him just like carly does
Forums
| | | |
| --- | --- | --- |
| | 1 | 2010/04/01 21:47:00 |
| this is for people who love werewolf. a werewolf natrue enemy is vampiers and vampier venom is deathly | 21 | 2013/03/17 15:05:32 |
| this is for people that want to be a vampier. a vampier natrul enamy is a werewolf. | 35 | 2012/10/24 19:52:21 |
| this is for people that want to be a human. if a werewolf scrates you you become a werewolf and if a vampier bites you you become a vampier | 9 | 2012/10/24 19:54:19 |
| come if you want to be a fairy | 10 | 2011/04/18 22:19:08 |
| come if you want to be a demon | 18 | 2013/03/22 02:34:05 |
| this is were wereswolf hand out and live | 4 | 2010/04/03 15:09:48 |
| this is were vampiers hang out and live | 3 | 2011/04/16 23:05:49 |
| places for humans to live and hangout | 1 | 2011/06/15 04:18:15 |
| this is were demon live and hangout | 5 | 2011/07/01 18:45:08 |
>> View all
Comments
Questions
Members