Man gets two tickets after he saves his son's life. What is up with this?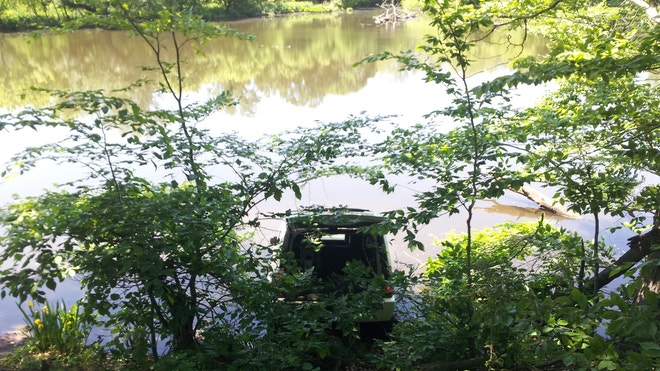 A New Jersey dad got the scare of his life when his 5-year-old son
almost ran off a steep embankment, and though the man saved the boy from
falling, he couldn't stop his Jeep from going over the precipice and
into a river below.
The reward for his ordeal? Two traffic tickets from local police.
Frank Roder, a construction worker from the town of Winfield Park,
had taken his son, Aidan, down to the Rahway River to feed ducks
Thursday. But when he stopped briefly before settling on a parking
space, the impatient boy jumped out and took off -- straight toward a
ledge 35 feet above the river, Roder recalled.
"He hopped out, and I thought that was OK, I was just going to park,"
Roder, 38, said, but "he just took off, made a beeline for the edge."
"Um, Daddy ..."
- Aidan, as he watched his dad's Jeep roll off an embankment.
The panic-stricken father jumped out of the cab of his 2006 Jeep
Commander and raced after the errant boy, catching him just feet from
the edge.
That's when Aidan, eyes as big as saucers, looked behind Roder and said, "Um, Daddy ..."
Roder turned in time to see the Jeep nosedive down the embankment and land in the muddy water.
Roder hugged the boy and waited as Union County police converged on
the scene over the next few hours. A crane pulled the Jeep out, and
amazingly, it started right up, though Roder is pretty sure his
insurance company will count it as totaled.
He was counting his blessings when a young cop approached him and
handed him two tickets. One was for failure to produce the insurance
card, which was somewhere in the waterlogged cab. The other was for
failing to use his emergency brake.
Read More: http://www.foxnews.com/us/2012/05/21/saves-his-kid...
Add a comment above
More polls by Assassin~ Badass Buzz Guru