ITS FRIDAY!
ITS FRIDAY!
i just realized its Friday. and if its not imma feel stupid :D
this calls for my Fridays SONGGGG!
SO YEAH!
so its Friday, i hope. YESTERDAY WAS THURSDAY, TODAY IS FRIDAY!
so getting onto my point. what you guys gunna do on the weekend? i have to go to my little brothers...4th bday i think hahaha. its a 'Super Why' so im excited cause i love that show!
sorry i got caffeine and im hyper and making it Friday doesnt help. so WHAT ARE YOU DOING FOR THE WEEKEND??
(now this is just depressing. someone should tell this kid its not
Friday so he will stop. sorry again, when im hyper i get a bit mean and
insulting. that wasnt mean or insulting but whatever. just felt like
telling you.)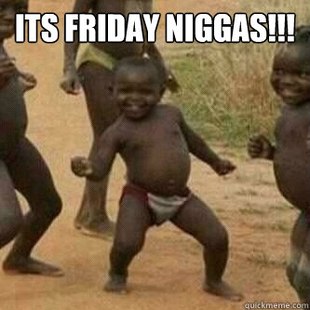 (im sorry if you think this is racist. i think its too funny not to put up.)
(at least someone brushes their teeth!)
Add a comment above