Air New Zealand Releases 'Hobbit'-Themed Safety Video: Brilliant or Bad Idea?
Airline safety videos are pretty standard—seat belts, oxygen masks, emergency exits, etc. But somehow these instructions seem far more interesting when coming from an elf.
Air New Zealand is making the most of next month's release of The Hobbit: An Unexpected Journey, with a Middle-Earth-themed safety film. The four-minute video titled "An Unexpected Briefing" stars elves, dwarves, hobbits (including a cameo from Gollum), and a wizard who looks a lot like Gandalf. Peter Jackson even makes an appearance, saying "my precious" as he reaches down to pick up a dropped ring, as do J.R.R. Tolkien's great-grandsons who play passengers aboard the flight.
The airline carrier has rebranded itself the "Airline of Middle Earth" and has turned its Boeing 737 into a "flying billboard" by plastering the body of the plane with images from the film.
On the one hand, the Hobbit-themed instructional video seems like a pretty clever way to get passengers to pay attention to the generally boring safety information. However, we also wonder if it's ever okay to make light of airplane safety. What do you think SodaHeads?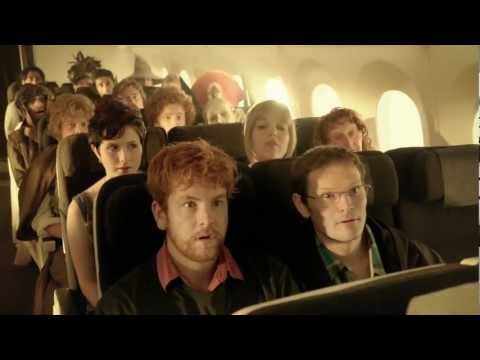 Read More: http://newsfeed.time.com/2012/11/28/air-new-zealan...
Add a comment above