likes & interests
About Me
Well, here's some quotes by me:
"I am an atheist for the most selfish of reasons, but I am assertive of my beliefs for the most unselfish of reasons."
"The political party system turns way too many people into numbers rather than thinkers."
"My goal is to get people to remember my ideas after I die. If they remember my name, that's just a bonus."
"The price of freedom is not humanity."
"Some people don't like the subjective; they feel it lacks meaning and they fear they lack control of it. I disagree. The objective is predetermined. The subjective puts you in control; you choose the meaning."
"Don't write letters to your former self; they'll never be able to read it."
"We'll improve drastically as a nation when the people realize the battle isn't between liberals and conservatives, but between people and government."
"The majority of conflicts on a world scale are not between good and evil, but evil and evil."
"Racism is pure ignorance; homophobia is holy ignorance."
"I've witnessed that some people use religion to replace their morals, rather than to uphold them. They feel like they can do anything they want because they accept Jesus as their savior. They feel it not only gives them the right to hate, but they believe that it's their duty to hate. I don't see a difference between someone doing something wrong, and someone doing something wrong with a cross in their hand."
"It tends to be difficult for one's mind to understand the simplicity of 'is' – to be - existence. It's even more difficult to relate oneself to that word. Humanity is. We just are. That's it."
"Respect should not be earned; it should be given from the start.
Disrespect should be earned, and not given from the start."
"I don't believe in the supernatural; if it were real, it would be called natural"
"People who feel the need to claim moral superiority are usually covering up for something."
"You examine your life to gain wisdom; you go to school to gain knowledge. One makes you happy, the other makes you money."
"A love of humanity always has better results than a fear of god."
My Political Views
I am a left social libertarian
Left: 4.21, Libertarian: 7.16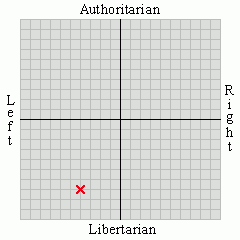 Political Spectrum Quiz
My Foreign Policy Views
Score: -5.38

Political Spectrum Quiz
My Culture War Stance
Score: -6.78

Political Spectrum Quiz
Favorite Quotes
"If a bullet should enter my brain, let that bullet destroy every closet door." - Harvey Milk
"It is an affront to treat falsehood with complaisance." - Thomas Paine
"Whenever anyone has offended me, I try to raise my soul so high that the offense cannot reach it" - Descartes
"When you understand why you dismiss all the other possible gods, you will understand why I dismiss yours." - Stephen F. Roberts
"A little nonsense now and then, is relished by the wisest men."
"I am not bound to win, but I am bound to be true. I am not bound to succeed, but I am bound to live up to what light I have."
- Abraham Lincoln
"Until Philosophers are kings...cities will never have rest from their troubles." - Plato
"I have tasted freedom. I will not give up that which I have tasted. I have a lot more to drink. For that reason, the political numbers game will be played. I know the rules of their game now and how to play it." - Harvey Milk
"When the government puts its imprimatur on a particular religion it conveys a message of exclusion to all those who do not adhere to the favored beliefs. A government cannot be premised on the belief that all persons are created equal when it asserts that God prefers some." - Supreme Court Justice Harry A. Blackmun
"Employ your time in improving yourself by other men's writings, so that you shall gain easily what others have labored hard for." - Socrates
"I'll show you Barack Obama's birth certificate when you show me Sarah Palin's high school diploma." - Bill Maher
"I like your Christ; I do not like your Christians, they're nothing like your Christ." - Mahatma Gandhi
"The real reason that we can't have the Ten Commandments in a courthouse: You cannot post "Thou shalt not steal," "Thou shalt not commit adultery," and "Thou shalt not lie" in a building full of lawyers, judges, and politicians. It creates a hostile work environment." - George Carlin
"Over the years, the democrats have moved to the right, and the right has moved into a mental hospital." - Bill Maher
"It is almost as if the human brain were specifically designed to misunderstand Darwinism, and to find it hard to believe." - Richard Dawkins
Areas of Interest
Eric ~ The Logician's activity, per category
info
Eric ~ The Logician

Male

Canastota, NY, US

2008/11/13 05:08:21

2011/09/15 11:08:11

(22) September 13, 1990

In a relationship

Straight

Virgo

Expressing Myself

College (Current)

Full-Time

Retail

No

Yes

Atheist

Someday

Other

White/Caucasian

Athletic

5 feet 11 inches
photos & videos