WHO WILL BE FILLING THE THIRD SEAT FOR THE USA TRACK OLYMPICS TRACK TEAM?
Controversy
EUGENE, Ore. -- The runoff to settle a third-place tie in the women's 100 meters at the U.S. track trials may not make it to the starting line on Monday.
[+] Enlarge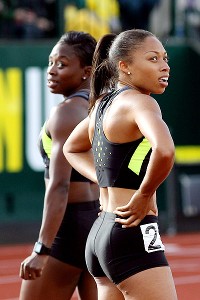 Michael Heiman/Getty ImagesJeneba Tarmoh, left, and Allyson Felix finished in a dead heat for third place in the women's 100 meters on June 23.
Sprinter Jeneba Tarmoh is reconsidering her decision to take part in the race against training partner Allyson Felix, according to a person with direct knowledge of the situation.
The person spoke on condition of anonymity because no announcement was made. A message was left for an official at USA Track and Field.
The runoff -- a winner-take-all race -- is scheduled to be held at 8 p.m. EDT -- 5 p.m. local time -- at Hayward Field. The winner earns the last spot in the event for the London Games.
Tarmoh only reluctantly agreed to the runoff in the first place. She felt that she won her spot fair and square on the track eight days ago.
"In my heart of hearts, I just feel like I earned the third spot," she said Sunday. "I almost feel like I was kind of robbed."
Tarmoh leaned across the finish line and looked up to see her name on the scoreboard in the third spot behind winner Carmelita Jeter and runner-up Tianna Madison. The 22-year-old even took a celebratory lap around the track, waving an American flag. She received a medal and conducted a news conference.
Then, she found out about the dead heat. From reporters, no less
Add a comment above