WATCH > Taylor Swift and Zac Efron Do a Duet on 'Ellen': Cute or Crappy?
Music
2012/02/22 23:00:00
There's always some rumor going around about who
Taylor Swift
is dating, and her "Lorax" co-star Zac Efron is the latest culprit. To address the rumors, the pair decided to perform an improvised
duet
to the tune of Foster the People's "Pumped Up Kicks" on "The Ellen DeGeneres Show" this week. Although the chemistry between the two didn't exactly quell suspicions.
Swift explained that she had given Efron a guitar lesson, and after a quick run-through of "Pumped Up Kicks," Efron started making up his own lyrics, supposedly on the spot. He sang about how "weird" it is when Ellen asks them if they're together and assured the public it isn't true, then Swift threw in a verse about her own experiences on Ellen's talk show. Check out the video of the impromptu duet below and let us know if you think it's cute... or crappy?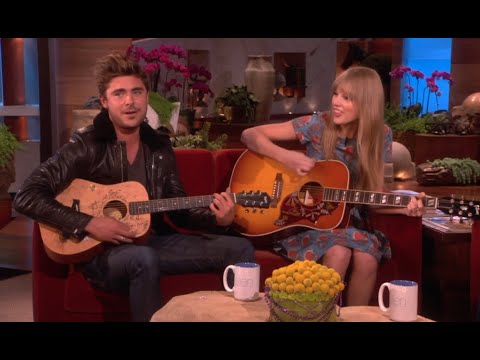 Add a comment above