WATCH > 'Pac-Man the Musical': Awesome or Awful?
Still can't can't enough
Pac-Man
after more than 30 years of maze-roving madness? Random Encounters has a unique addition to the classic
video game franchise
: a Pac-Man musical. It's only a couple minutes long, so it's worth a watch or two.
"Pac-Man the Musical: A Pacapella Song" was composed and directed by AJ Pinkerton of Random Encounters, the YouTube channel that brought you such gamer-themed hits as "The Legend of Ganondorf: A Zelda Song" and "Singachu: A Pikachu Song." According to the credits, Pinkerton and co-producer Peter Srinivasan made the Pac-Man video with just a handful of friends in a kitchen.
The video was shot in stop motion clay animation, meaning they positioned each frame of the clip by hand, much like "Wallace & Gromit" or "The Nightmare Before Christmas." Speaking of which, as Kotaku noted, the song appears to be strongly influenced by the Tim Burton film -- particularly "Kidnap the Sandy Claws."
Random Encounters also posted a list of milestones with content rewards for reaching a certain number of views or likes. For instance, if the video gets 50,000 views they'll release an "album-version mp3" of the song, and at 100,000 views they'll tell you what that random "hairy thing" is at 1:18.
On the day it was released Pinkerton tweeted, "May your minds be
infected
with a thousand looping verses of this doozy for the next one hundred years! BAHAHAHAHHA!" So with that, we give you "Pac-Man the Musical: A Pacappella Song."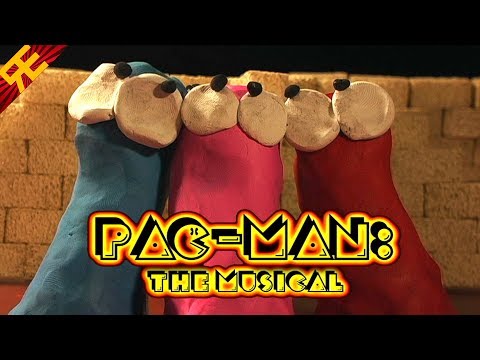 Add a comment above