WATCH > OK Go's 'Needing/Getting' Music Video: Pure Gold or Getting Old?
You might know OK Go from their 2005 treadmill music video ("Here It Goes Again") or their impressive 2010
Rube Goldberg machine
("This Too Shall Pass"), each one composed of a single complicated, fully choreographed shot. Well, the ambitious indie rockers are at it again. This time, they performed "Needing/Getting" with a car. The band set up pianos, guitars, bells, drums, and other objects along a dirt track at specific intervals, attached beaters and retractable arms to a car, and sang along as the song unfolded around them.
Recently, the band admitted that the revenue they generate from these viral videos is hardly what you would expect. Manager Jamie Kitman told the SF MusicTech Summit that YouTube is not the way to go if a band wants to make money. He explained, "I can speak to an artist who gets a lot of traffic, which is OK Go, and I would say that 'trickle' is the operative word, in terms of revenue we receive from places like YouTube and VEVO. The YouTube revenue is so small based on how many streams we've done that I would say it's not a business model; it's like finding change on the street."
So how did they get the money to create such an ambitious project? And how did they manage to promote the video during the
Super Bowl
? Product placement, of course. Because the band's videos get so many views, they were able to secure a cross-promotion with Chevy by using a Chevy Sonic in the video. It's a perfect marriage of mainstream commercialism and independent art. Now
that's
a business model.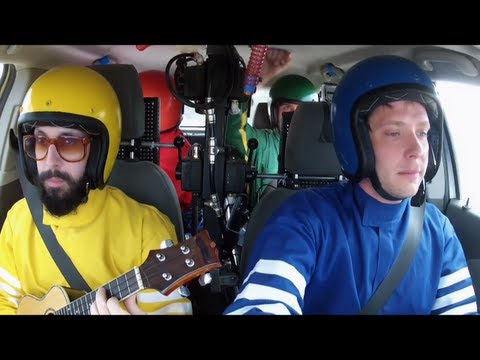 Add a comment above