Was Miley Cyrus's performance fun -- or way too much?
The MTV Video Music Awards has long been known as TV's strangest awards show and Miley Cyrus lived up to that reputation with a provocative performance that involved twerking and running a foam finger along her body.
Cyrus, 20, kicked off her performance by singing her hit summer single, "We Can't Stop." The pop star appeared on stage with a multitude of dancing teddy bears while she wagged her tongue out to the cameras and slapped a woman's butt on stage.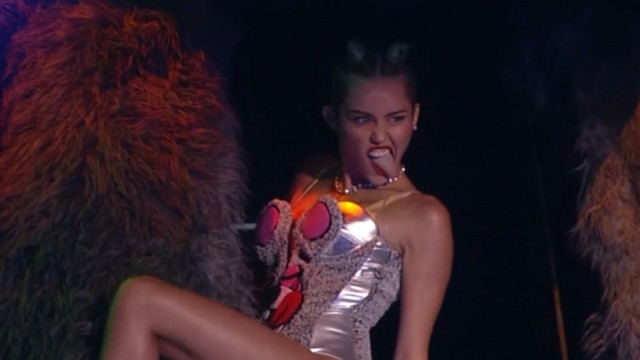 The former Disney star eventually stripped off her bear-inspired ensemble and revealed a nude bikini underneath as her dancers surrounded her with giant teddy bears strapped to their backs.
The weirdness turned into raunchy when Robin Thicke appeared on stage to perform "Blurred Lines." Cyrus remained on stage to sing backup vocals and ran a foam finger along her private parts with some major pelvic thrusts. At one point, Cyrus appeared to be nuzzling Thicke's neck. But the most talked-about moment came when Cyrus bent down in front of Thicke and gave him the mother of all twerks.
"Miley better get a damn pregnancy test after all that grinding," joked comedian Kevin Hart afterward.
Read More: http://abcnews.go.com/blogs/entertainment/2013/08/...
Add a comment above