Should Taylor Swift Date... This Guy?
From Taylor Lautner to John Mayer to
Jake Gyllenhaal
,
Taylor Swift
clearly has no trouble sweeping celebrities off their feet, and one singer-songwriter is out to win her over with a sickly sweet love song.
Adam Young of Owl City -- he does that song about "10,000,000 fireflies" that they play at grocery stores -- posted a cloying
Valentine's Day
note to his blog yesterday in response to Swift's song "Enchanted," which was apparently about meeting Young.
After gushing over Swift and the song for several paragraphs, he begins his formal response, "Dearest Taylor, I'll be the first to admit I'm a rather shy boy and since music is the most eloquent form of communication I can muster, I decided to record something for you — as sort of a 'reply' to the breathtaking song on your current record."
He then goes on about her "wonderful heart" and "elegance," comparing her to a "modern Cinderella," and of course signed it, "Love, Adam."
Finally, the hopeful romantic attached a new version of "Enchanted" with his own lyrics. Check it out below.
After listening, you tell us: should she date him (cute) or erase him from her contacts (barf)?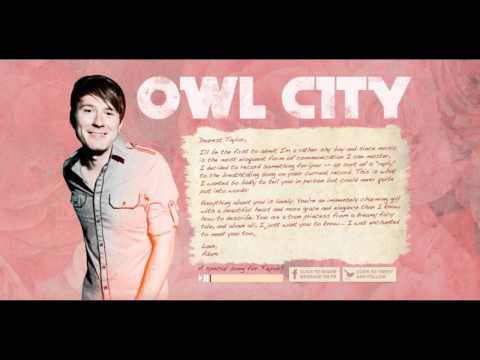 Add a comment above