Should Obama return Bill 'dumb twat' Maher's super pac donations?
Liberals defended Bill Clinton as he sodomized, sexually harassed, physically assaulted and possibly raped women.
Liberals defended Ted Kennedy who killed a woman.
Liberals did not say a peep as
Obama 2012 Super PAC million dollar contributor Bill Maher
made money by smearing women.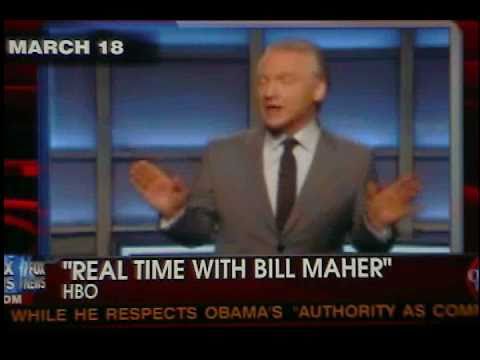 "In response to the media firestorm surrounding Rush Limbaugh's insulting
comments about Democratic activist Sandra Fluke (comments for which
Limbaugh apologized), Kirsten Powers writes
about the liberal men who have used misogynistic rhetoric without
facing the same outrage. Powers notes that "the grand pooh-bah of media
misogyny is without a doubt Bill Maher—who also happens to be a favorite
of liberals—who has given $1 million to President Obama's super PAC."
She continues: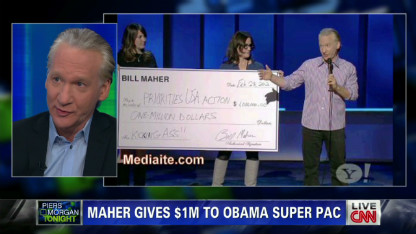 Maher has called Palin a "dumb twat" and dropped the C-word in describing the former Alaska governor. He called Palin and Congresswoman Bachmann "boobs" and "two bimbos." He said of
the former vice-presidential candidate, "She is not a mean girl. She is
a crazy girl with mean ideas." He recently made a joke about Rick
Santorum's wife using a vibrator. "
Should Obama return Bill 'dumb twat' Maher's super pac donations?
Read More: http://www.weeklystandard.com/blogs/will-obama-sup...
Add a comment above