Racy Miley Cyrus Lingerie Photos Leaked—We Can See Your Underwear Good or bad for the Star?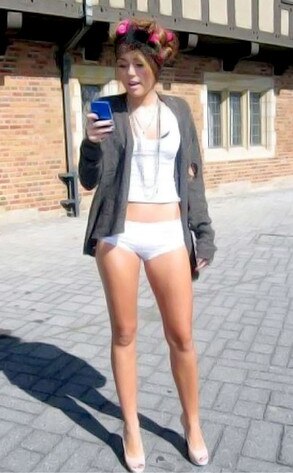 Twitter
Don't get your panties, or your boy shorts, in a twist just yet.
The Internet is buzzing over leaked pics that feature Miley Cyrus posing in just her undies: white hot pants, a tiny tank and purple bra. Watch for a Twitter trending topic in three, two, one…
So what's the big deal?
READ: Miley Cyrus' Fiancé Liam Hemsworth Heads Back to Work on Empire State
They're not sexting shots, or anything you haven't seen before.
The pics in question were taken in 2010 while she was shooting the video
for her single, "Who Owns My Heart." And she was 17, legal at the time.
However, among the sexy, behind-the-scenes photos, the Can't Be Tamed singer's vamping it up like she wants to be spanked and doing some same-sex flirting with her makeup artist Denika Bedrossian.
So, if you're into panty shots and girl on girl action—this is your lucky day! Otherwise just carry on about your business.
Read more:
http://www.eonline.com/news/racy_miley_cyrus_lingerie_photos/...
Add a comment above