R-Patz and K-Stew: Are They Or Aren't They?
Although they're still claiming that they're not a couple, Robert Pattinson and Kristen Stewart were out on the town acting like, well, a couple.
The evening started off on a business note, with the dazzling duo making a promotional pit-stop at the AMC movie theater in L.A.'s Century City at a showing of their blockbuster summer hit, "Eclipse."
R-Patz and K-Stew have been making surprise visits at movie theaters across the country as part of a thank you tour for their fans.
At this latest stop, Stewart thanked the fans "for making it such a great weekend" and Pattinson said, "I hope you like the movie, because otherwise, this would be really embarrassing. Yeah, thanks for making it...such a special opening weekend for us."
After their official business was taken care off, the couple then ducked away for a romantic dinner alone at Pattinson's favorite hangout, SoHo House in West Hollywood. The couple snuck in through the establishment's private, underground entrance. A source on the scene told E! News that the couple, while not overtly affectionate with one another, did seem relaxed and happy together.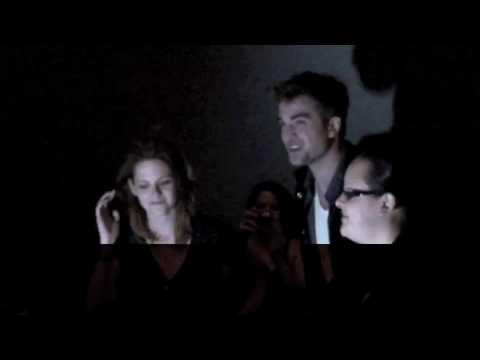 Do you think that R-Patz and K-Stew are now officially a couple?
Read More: http://www.eonline.com/uberblog/the_awful_truth/b1...
Add a comment above