News Feed! Facebook's Mark Zuckerberg Marries Longtime Girlfriend Priscilla Chan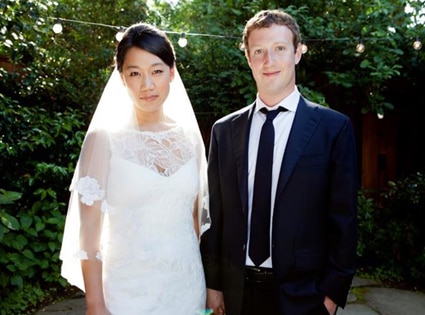 Facebook
Status update: Facebook founder and CEO Mark Zuckerberg tied the knot with longtime girlfriend Priscilla Chan in an intimate wedding at his Palo Alto, Calif., home on Saturday.
RELATED: The Social Network: Where Are They Now? All the Stars (and Real People) From the Facebook Movie

The couple, who met at Harvard and have been going steady for
more than nine years, took the plunge in front of an group of fewer than
100 family members and friends, according to People.
The surprised guests reportedly thought they had gathered to celebrate
Chan's graduation from medical school at the University of California,
San Francisco, on Monday.
Zuckerberg made the marriage all the more official and public by, of course, changing his status on Facebook from "In a Relationship" to "Married."
The union of the two lovebirds added another momentous event to the
28-year-old's week, who on Friday made one of the most anticipated moves
in finance history by taking his company public.
MORE: Rihanna, Eminem, Bono—Which Celebs Will Make the Most Money From Facebook's IPO?
So what does a multi-billionaire give his
college-sweetheart-turned-fiancée for a ring? A company spokeswoman said
Zuckerberg designed the ring himself which featured "a very simple
ruby."
As for kids? The couple currently have one white fluffy one named Beast together.
Congrats—we like this!