Lamar Odom Reportedly Returning to Los Angeles as a Clipper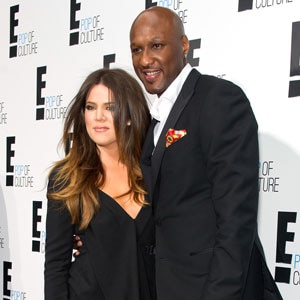 Gilbert Carrasquillo/FilmMagic
Welcome back, Lamar Odom!
It looks like Khloé Kardashian Odom and her hubby are here to stay, now that the NBA star has been traded to the Los Angeles Clippers, according to NBC Sports. We can think of at least eight people who are really happy about that.
READ: Are Khloé Kardashian Odom and Lamar Heading Back to L.A.? And What's Going On With Kanye and Kim?
A Kardashian source confirms Odom's agent has arranged a deal for
him to return to the Clippers but adds that the deal is not yet inked.
Khloé, who spent the day with her sisters at the Jenner house, is "thrilled" at the prospect, the source tells E! News.
The forward is no stranger to Lob City. Lamar spent his first four
years in the NBA as a Clipper when the team drafted him fourth overall
in 1999.
Odom was traded from the Los Angeles Lakers last season to the Dallas Mavericks, where he played 50 games but was out for numerous games due to familly troubles.
The NBA star parted ways (in
all but contract) with the Mavs in April, saying, "I'm sorry that
things didn't work out better for both of us...but I wish the Mavs'
organization, my teammates and Dallas fans nothing but continued success
in the defense of their championship."
Lamar was named NBA's Sixth Man of the Year for the Lakers for the 2010-11 season.
Read more:
http://www.eonline.com/news/lamar_odom_reportedly_returning_l...