Lady Gaga Gets a Concussion, Responds to Madonna: Is She Having a Bad Week?
This last week just hasn't been going
Lady Gaga
's way, but she's powering through like a champ. The pop star was hit in the head with a metal pole during a performance of "Judas" in New Zealand on Sunday. Hard. Later on during the show, she told the audience, "I want to apologize. I did hit my head and I think I may have a concussion. But don't you worry, I will finish this show." Check out the raw footage below.
But that wasn't all. She finally responded to
Madonna
's anti-Gaga tirade (Madge did a medley of Gaga's "Born This Way" and her own "Express Yourself" and chanted "she's not me" at the end of the song.) Gaga said in a speech on Thursday, "that doesn't make me feel good at all. That just makes me feel like I'm not being a good human being ... I don't even want to fight back because it's more important to me to keep writing music ... things are really different than they were 25 years ago, and that's what makes 'Born this Way' so relevant for me." Do you think Gaga's going through a rough week?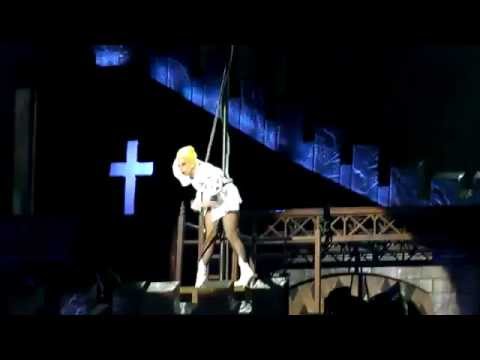 Add a comment above