Idol Winner Phillip Phillips Isn't Done Shedding Tears of Joy Did you want him to win American Idol?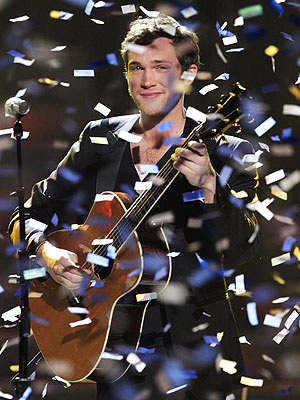 Phillip Phillips
Mario Anzuoni/Reuters/Landov
Phillip Phillips couldn't hold back his emotions on Wednesday night when he was
named the winner
of
American Idol
.
Following the big announcement (132 million votes were cast, the
most ever), Phillips, 21, broke into tears during a performance of his
new single, "Home."
"I wasn't thinking about anything, not even the song," he told
reporters backstage after the show. "I wasn't really wanting to sing or
anything. I just started thinking about the whole journey and how far
all of us have come, and how we've made it. It's so overwhelming."
Phillips expects his eyes to remain teary for a little longer.
"I hate crying, but I'll probably cry some more," he says. "It feels good at times."
Other than what his eyes seem to express, Phillips feels "numb" from the whole experience.
"This doesn't feel real," he says. "It's so unreal. It still
hasn't sunk in yet. It's such a blessing. I have no idea why this
happened. I just want to play music and I'm just a lucky guy."
Adds the new star, "I'm not a great singer. I just love having
fun up on stage and playing good music and getting the crowd into it.
Music's fun, dude."
Add a comment above