Dream Team 2012 Scores 156 to Shatter Olympics Record: Did USA Hoops Run Up Score?
USA's 2012 Dream Team made 46 three-point attempts in their rout of Nigeria. America beat Nigeria by 83 points -- marking the final score of the game 156-73. Carmelo Anthony scored 37 points with 10 three-pointers. "It was just one of them nights where as a unit we had it going," Anthony said. "It could have been anybody out on the court playing against us."

ESPN.GO.COM reports:

The U.S. men's Olympic basketball team stayed undefeated in record-setting fashion, getting 37 points from Carmelo Anthony and breaking the Olympic mark for points in a game in a 156-73 rout of Nigeria on Thursday night.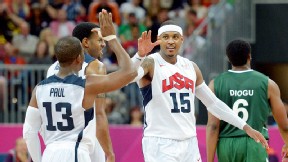 Read More: http://espn.go.com/olympics/summer/2012/basketball...
Add a comment above