Do You Prefer Katy Perry Pink-Haired, Brunette or Blond?
Katy Perry's hair color is changing quicker than
Pluto
's planet status, and she's finally delving back into
unnatural
colors.
This week, it's ... hot pink! Mostly.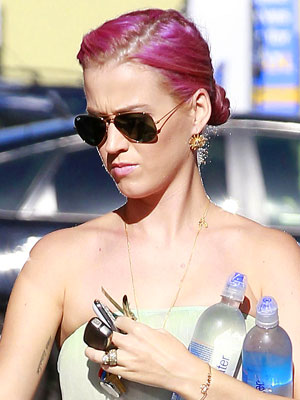 Since this 'do is up in a bun and shamelessly displaying Perry's lighter roots, it's probably still one of those "transitional" stages she warned us about last Monday when she suddenly went
blond
.
She tweeted, "I have been dying my hair since 10pm! Good GOD let me get to my destination tonight! #beenblack #beenblue #beenhotginge #beenblonde #now..."
First of all, we're positive that's an overuse of the hash tag. We weren't even going to say anything until we got to "#now..." #CalmDown #Katy...
Second of all, we barely even got to see her "hot ginge" and blond looks for more than a night! She must have gone to the tabloids the very next morning and took their all-knowing fashion advice to heart.
Our point is, she hasn't really "been blonde" until she's given it a proper test drive. Otherwise, she's just frying her locks for the hell of it.
Take a good look at her magenta mop while it's up, because come tomorrow, it will be old news.
Add a comment above