Did Bill Nye deserve to be booted from 'DWTS'?
Bill Nye was the second celebrity eliminated in season 17 of ABC's "Dancing With the Stars," but he and professional dancing partner Tyne Stecklein remained upbeat while discussing their short-lived 'DWTS' experience on "Good Morning America" Tuesday. "It was the coolest thing. It was great," Nye told the "GMA" anchors in Times Square.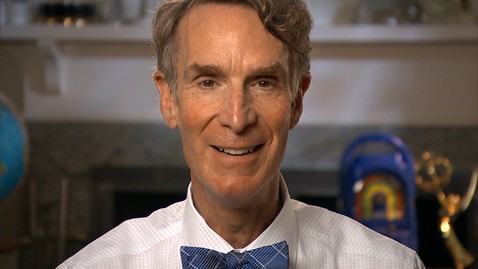 After suffering a serious leg injury during his performance last week, Nye has been walking with a cane and unsure if he'd even be able to perform in Monday night's show. But Stecklein got creative with her choreography, going with a robotic-themed dance to Daft Punk's electronic pop hit, "Get Lucky."
"We needed to do something that allowed for locked leg because, obviously, the one leg had to be, so I tried to pull some fun moves that were energetic," Stecklein said of her decision to go with the jazzy routine that allowed for Nye to wear a leg immobilizer and stick with mostly hand movements.
And although Nye was dismissed, he made sure to give credit this morning to his partner whom he called "extraordinary," as well as everyone behind the scenes who helps put "DWTS" on air.
Read More: http://abcnews.go.com/blogs/entertainment/2013/09/...
Add a comment above