DHS Funded Video: Surviving an Active Shooter Event (for the unarmed citizen)
"After last week's shooting at a movie theater in Aurora, Colo., the city of Houston has released a how-to video on surviving a shooter event.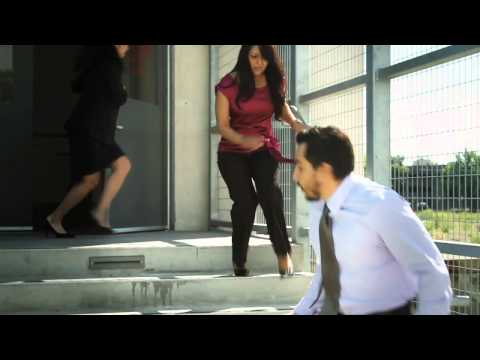 The video was created with funds from the Homeland Security Department.
"I can't imagine the horror and grief. If it is at all possible for any good to come out of it, perhaps it can be letting people know the options to consider if it happens again," said Mayor Annise Parker in a statement."
http://www.federalnewsradio.com/473/2966001/DHS-funded-video-...
After I watched the DHS funded video advising people on how to survive a Matrix style mass shooting by Neo, or a T-101 after you've been targeted for "Termination" by Skynet, or something. I give the video only "one star" out of 10, for lack of originality, improperly informing the public, while attempting to demonize the 2nd amendment all at the same time.
The DHS video begins, with what appears to be an aging Arnold Swartzenegger stand-in, walking past some typical office sky rise buildings, in a typical downtown area, just before the video cuts to a typical office scene, that's complete with a bunch of typical cubicles, and a few other rooms for snack breaks, and to copy stuff in, or for whatever people do in offices these days.
This is when the videos nerdy ineffectual sounding narrator, who is probably right out of the governments "Office Cubical Narration" central casting department informs us,
"It may feel like just another day at the office? BUT OCASSIONALLY, life feels more like an action movie than reality.
" I think I've already covered what those action movies might be. So I'm going to suggest here, that if the DHS really wants to frighten the general public to the point of paranoia? Then they might want to check out some PSA clips on
"How to Spot a Communist
" from the 1950's. Now that's some hard hitting powerful narration.
As the DHS video cuts back-and-forth to the Terminator reject, dressed like Neo and walking outside the typical office scene. The videos narrator continues with, "Authorities are working hard to protect you and to protect our public safety. But, sometimes, bad people do bad things." Just before the mass shooter arrives inside the typical office scene and starts blowin' some people away.(I agree DHS narrator, that's not a very nice thing to do)
Which brings us to the portion of the video where the DHS attempts to make a few helpful suggestions, on how to respond after you, or one of your co-workers, has been targeted for "Termination" by Skynet.
Well, apparently because no one in the office has a firearm at the time of the shooting, then the first thing to do is "Run". In case, your natural instinct doesn't automatically inform you of this option. Once you exit the building and reach a safe enough place away from the zone of Termination, or where Neo is attempting to rescue Morpheus from inside the Matrix? Then call 911.(if an Agent Smith arrives shortly thereafter? Then you'll know which action movie you're currently in)
However, if you can't run to a safe place, then DHS suggest that you "Hide". In case, your natural instinct doesn't automatically inform you of this option. Your options here includes, hiding under your cubical desk, or barring the door in the break room with the candy dispenser. And, If you're in the copying room? Then use the copying machine, and remember to lock the door and turn off the lights. Hey, it all worked great for Sarah Connors in the original Terminator. However, don't call 911 when exercising the "Hide" option, but instead turn off your cell phone so as to not draw attention to yourself, and let the people who ran away do all the 911 calling.(provided someone got away safely? Otherwise, you're pretty much screwed)
Surprisingly though, the DHS video does recommend fighting back, if you're hiding in the break room and the shooter suddenly gets the munchies. Unfortunately, no one has a firearm to fight back with, so you'll have to do your best with plastic chairs and a fire extinguisher against a shot gun wielding mass murdering maniac. (Oh, Stop Complaining and just grab something)
If you manage to survive until the paramilitary first responders show up with machine guns, while dressed in police attire and camouflage military uniforms. Don't bother asking why military soldiers would wear camouflage uniforms while responding to an office shooter. Just be grateful that a para-military force responded so quickly if the break room counter-attack failed.
Once the first responders arrive, the DHS video informs us that their not there to evacuate or tend to the injured, but are there for the sole purpose to stop the shooter.
1st) Remain Calm and follow instruction.(seems reasonable enough, after all, I don't want to be a problem for a paramilitary force carrying machine guns)
2nd) Keep Hands Visible at all times.(I guess, so the first responders don't mistake me for the shooter and shoot me for safety reasons)
3rd) Avoid Pointing or Yelling.(So just shut-Up after being the victim of a senseless massacre and let the professionals take over from here)
4th) Know that Help is on its way.(I assume this mainly applies to the injured, who should just keep calm and quiet while in agony, with your hands visible at all times. Because Help is on its way)
Remember, as the DHS video points out, "Your actions can make a difference. For your safety and survival." So, Run and Hide, and if that fails then Fight, with all the might that your plastic chairs and fire extinguisher will allow. And, call 911, then wait for help to arrive while your co-workers are yelling and screaming in fear and agony as they're being murdered inside. Hey, not your problem now that you're safe outside.
Read More: http://www.federalnewsradio.com/473/2966001/DHS-fu...