Dad Plays Real-Life Pac-Man With Son: Cute or Corny?
Pretty soon video games are going to be so real you'll hardly be able to separate them from reality. Just take a look at this new edition of
Pac-Man
. You don't even need a console to play it! Just a
young child
, a couple of bags of marshmallows, and blue tape. Hair spray is recommended but not required.
Alright, technically it isn't a video game. It's just a father getting his son to act like Pac-Man. Nathan and Jen Glemboski convinced their son to gobble marshmallows off the floor and chased him through a maze of blue tape.
We were especially impressed by the kid's yellow shirt and
sprayed yellow hair
. Talk about attention to detail. That and the Pac-Man sounds really drive home the theme. We were a little disappointed in the layout, though. They could have at least set up transporters at each end of the room. Those are essential
escape routes
. Although that tape isn't quite as limiting as it should be, either.
Oh well. It's still cute. Next time, Glemboskis. Next time.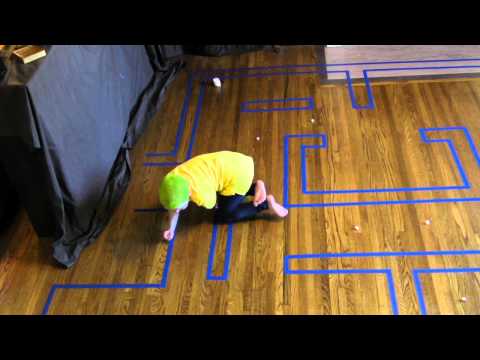 Add a comment above