Are You Looking Forward to 'The Legend of Zelda: Skyward Sword'?
First Mr. T promoted "World of Warcraft," then
Harrison Ford
showed up in n "Uncharted 3" commercial, and now Robin Williams is playing Wii for "Legend of Zelda: Skyward Sword." What's next, a "
Mario Kart 7
" commercial starring Jack Nicholson? We're eagerly awaiting it.
"Skyward Sword," the latest addition to the "Zelda" franchise, is just a couple weeks away (Nov. 20 for North America) and Nintendo is deploying its big guns: live-action ads and celebrity endorsements. But this isn't Robin's first rodeo. The "Good Will Hunting" actor starred in a commercial for "The Ocarina of Time 3D" back in June, and it helps that he actually named his daughter Zelda after the video game (also in both commercials).
The second ad doesn't star Williams, but it's entertaining enough. Basically a bunch of swords and shields fall from the sky, sticking into the hoods of cars and narrowly missing innocent bystanders. At the end, one brave gamer picks up the sword, gives it a couple of swings, and gets ready to take on the world. (Then it turns into a Wii game and it's kind of downhill from there.)
One of our favorite parts of the "Zelda" series is when it uses a fragmented setting to keep things interesting -- one game allows Link to alternate
seasons
, one allows him to jump between past and present, etc. In "Skyward Sword" Link will get to travel between Skyloft, a city in the clouds, and a mysterious lower plane where evil runs rampant.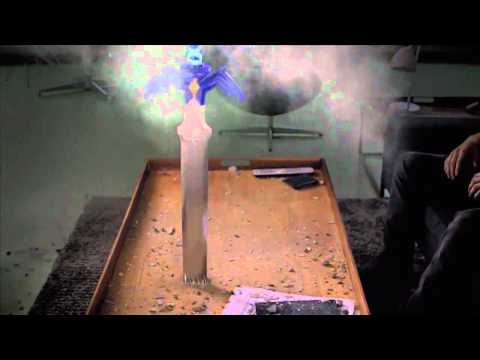 Add a comment above