Are You Afraid of Sharks?
It's Shark Week on the Discovery Channel, and it's hard not to sink your teeth into the hype.
This year, the Discovery Channel has a fresh line-up of fact-filled shark documentaries, worst-case scenario survival tips, and gruesome first-hand accounts from shark attack victims.
New films to premiere this year include such innovative titles as "Day of the Shark 3," and "Ultimate Air Jaws."
The purpose of Shark Week, aside from giving us an excuse to indulge in "Jaws" marathons and listen in on staggering survival stories, has always been to raise awareness of the creatures. Shark Week tries to emphasize how few shark attacks there really are, and to inform people on how to deal with sharks.
This year, host of "The Late Late Show" Craig Ferguson was selected to host Shark Week, and even went on his own excursion for "Shark Bites: Adventures in Shark Week," premiering Wednesday. Ferguson went scuba-diving with sharks in their natural environment, completely unprotected.
Halle Berry has also been swimming with great whites this week for an upcoming shark-related movie called "Dark Tide."
Shark Week has been a tradition on the Discovery Channel since 1987. That's over 20 years of celebrating the most feared creature of the deep, and, according to the Discovery Channel, one of the most misunderstood.
WATCH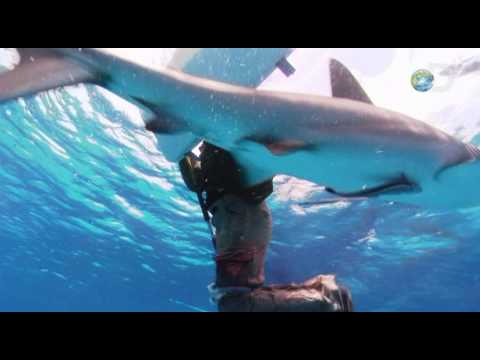 Are You Afraid of Sharks?
Deadly Predators or Just Misunderstood? WATCH: Shark Attacks and How to Survive them
Read More: http://dsc.discovery.com/tv/shark-week/
Add a comment above