Am I the Only One Who Thinks the New World Order Might be a GOOD Thing?
Everything I'm reading about it and every video I watch referring to the New World Order that ISN'T biased or fanatical sounds like the NWO is merely promoting and strengthening international commerce on a sustainable scale, environmental well-being, and international goodwill in the form of a better understanding between all peoples and between the world's religions. Does that sound remotely sinister to anybody? Come on, people... THINK!
"Overconsumption of Resources", "Environmental Degradation", "Population Growth", "Overpopulation", "Sustainable Development"... "Sustainable Growth". These are the buzzwords of which we will begin to become very conscious in the years and decades to come, because they are so very crucial to our survival as a species. And these are (sadly) the very types of concerns that few but the so-called "Illuminati elite" seem brave enough to speak about, yet the majority of the population is against them when they do so.
Here is a video clip by "Prison Planet" (Alex Jones' group) of David Rockefeller on C-SPAN speaking very (it seems to ME) reasonably about the above issues and of the necessity for these measures to also be retaining of and/or promote both liberty and tranquility, AND of the awesome individual responsibility accompanying this, which (I say) we as global citizens should probably start thinking about.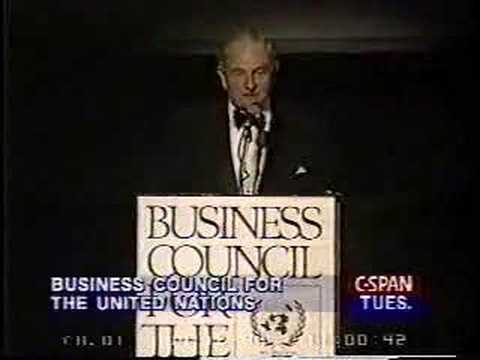 Here's Charlie Rose interviewing former Secretary of State Henry Kissinger on the New World Order, and he is ALSO sounding very level-headed:
In the above video, Kissinger ponders, "The people who are disadvantaged by the process (of globalization) look to their governments for solutions. But the governments are national, and the problem is global. So how to bring about a relationship between the desirable process of globalization and its impact on the politics?" These are the types of questions we need to be asking if we wish to retain and expand the benefits of globalization.
I hope this question challenges my SodaHeads to think. Clearly, I am not in favor of tyrannical, global enslavement, and many of you know me to actually be QUITE libertarian. But I think we have to begin to ask questions like, "Are our narrow conceptions of liberty sustainable based on our OTHER wants and needs?" and, "If they are NOT sustainable, what price are we willing to pay (or require of others to pay, both domestic and foreign) to keep them?" In this already highly globalized economy, "How do MY choices affect other people on other parts of this planet, and what are the effects of THEIR choices on ME?" Lastly, for those who believe they already HAVE all the answers on the New World Order, that IT is the problem and not the solution, I would encourage that healthy skepticism. But I would also quietly point them to the words of Goethe, as they just might be pertinent here also:
"None are more hopelessly enslaved than those who falsely believe they are free."
Add a comment above